Bob's Biggest Bloopers of the Year
No one ever went broke underestimating the taste of the American public, H.L. Mencken famously said. To which I now find myself duty-bound to add: No one ever went broke overestimating how much we actually eat. I learned this too late. A little more than a year ago, by dint of financial analysis and a view on popular enthusiasms nearly as jaded as Mencken's, I figured stock in Weight Watchers International (WTW ) was bound to go plop. Instead, it rose from $32 to $50 (charts).
Which drags me to that most melancholy annual moment, The Barker Portfolio's review of foiled forecasts. I've looked back at columns at least a year old and, cringing, examined those that time and events have proved wrong. Weight Watchers, I'm afraid, isn't the only crow on that menu.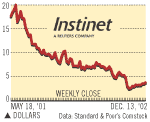 INSTINET GROUP. Parent Reuters Group (RTRSY ) sold shares of this pioneering electronic stock-trading service in a May, 2001, initial public offering. What appealed to me was that some shares came via WR Hambrecht's "OpenIPO" online auction, a way to name your own price. A bid near $7 a share seemed about right to me, but since enough others bid much higher, the IPO came at $14.50. Anyone bidding $7 would have missed out--on an ugly capital loss, it turns out. Within a year, Instinet (INET ) sank below $7 and today goes for half that. Competition and price-cutting wreaked havoc: Through Sept. 30 of this year, Instinet lost $623 million, after netting $99 million a year earlier. Is a turnaround ahead? Maybe. As the industry consolidates, "price competition has abated," CEO Ed Nicoll told me. Now, with Instinet's head count down 37% in the past year, he sees black ink in 2003.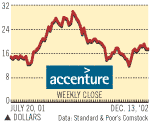 ACCENTURE. Once the management and tech consulting arm of Arthur Andersen, Accenture (ACN ) went public in July, 2001, at $14.50. This gave the company a market value 1.3 times its revenue, even as rival KPMG Consulting (KCIN ) (since renamed BearingPoint) traded for 0.9 times revenue. That looked risky to me. Yet Accenture proved that rarity among recent tech-related new issues, dipping only briefly below its IPO price. As BearingPoint shares fell 45%, Accenture's last spring topped $30 and today trade near $18. Accenture was quick to cut staff as clients delayed projects. It also withheld $140 million in accrued bonuses for the fiscal year ended Aug. 31.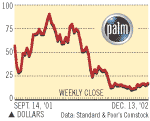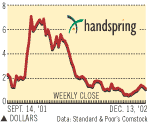 PALM AND HANDSPRING. After noting the value apparent in these two makers of handheld computers in September, 2001, I was pleased to see each stock jump within months (Palm (PALM ) up 74%; Handspring (HAND ), 249%). Then, they crashed. Both fell below $1, and Palm even had to do a 1-for-20 reverse stock split. That's why it trades near $17 now. This was by no means the revival I had expected in the "Palm Economy," a network of software, computer, and telecom outfits that rely on the Palm OS, the leading operating system for handhelds. Both companies brought out some neat products, but pricing and demand remain weak. Instead of returning to profitability, as both companies expected this year, red ink keeps flowing. Meantime, their cash dwindles.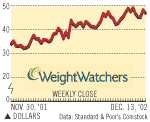 WEIGHT WATCHERS. Despite its precarious balance sheet--a danger I pointed out after its November, 2001, IPO--Weight Watchers walked through its first year as a public company with all the assurance of a runway model in high heels. Attendance at its weight-loss meetings rose 18% through September. As operating margins expanded, cash flow through the first three quarters surged 38%, helping Weight Watchers to begin trimming its debt. CEO Linda Huett told me that, barring acquisitions, she expects to have it paid off by 2005. With the stock now near $47, Weight Watchers commands 29 times Wall Street's estimate of 2003 earnings. So its charms aren't wasted on investors, even if they were on me. From now on, though, I won't forget this fundamental truth: It's a Plus-size, Big Gulp, vain, vain, vain, vain world out there.
Before it's here, it's on the Bloomberg Terminal.
LEARN MORE