The Upper Hand in Handhelds?
With its new Axim X5, Dell is out to undersell competitors--and still make money
Dell Computer's (DELL ) pattern of attack is familiar by now: Find a product that enjoys good margins. Then build it--or have it built--cheaply enough so that you can underprice the competition and still be profitable. Ship the product, and watch the market-share points stack up.
Handhelds are the latest target in Dell's search-and-destroy mission against fat margins. Dell took a hungry look at Hewlett-Packard's iPAQ (HPQ ), which dominated the market for handhelds running Microsoft's Pocket PC software (MSFT ) despite prices generally north of $500. Working with Wistron Group (owned mostly by Taiwan's Acer), Dell developed the Axim X5 and offered it at the unprecedented price of $199, after a $50 rebate.
The Axim is a typical Dell product: a solid but not trendsetting design, packed with features--and a remarkable value. Nearly 3/4-in. thick and weighing almost 7 oz., it's a bit on the chunky side, especially for users with small hands. But inset rubber strips on both sides make it easy to grip, and a jog lever on the left side makes it convenient to scroll through lists and select items using one hand.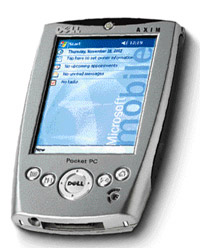 Battery life is difficult to measure in handhelds because usage patterns vary so much, but the Axim's big battery should get most people through at least a couple days of work. The battery is removable, so carrying a spare ($59) on a trip is a nice alternative to traveling with the charger. The less expensive of two models comes only with a charger and sync cable, but the $299 premium version features a cradle that can charge both the unit and an extra battery at the same time.
The Axim has no built-in wireless communications. However, it features both a CompactFlash slot that can be used for a variety of wired and wireless communications options and a slot for postage-stamp-size SD memory cards.
This product is not the first low-priced challenger in the Pocket PC market. Viewsonic recently introduced its Pocket PC V35 at $299. Nevertheless, Dell's marketing clout and its huge footprint in big corporations changes the equation dramatically.
Dell's plans for a low-cost Pocket PC were an open secret for months before the Nov. 18 announcement, and HP didn't take the development lying down. It has countered with the stylish, 4.2- oz. iPAQ h1910, the thinnest and lightest Pocket PC ever and, at $299, one of the cheapest.
The h1910 is designed for people who want a Pocket PC that actually can slip easily into a pocket but that does not offer a lot of options or accessories. Its single SD slot is usable only for memory. And although it uses the same sync and power connector as recent Compaq iPAQs, it lacks the connector that allowed the older models to slide into "sleeves," enabling them to function as cell phones, global positioning receivers, and other types of devices. Like the Axim, the h1910 has a removable battery and an extra charger slot in the sync cradle.
HP is not abandoning the high end of the market. It is also offering the $699 iPAQ h5450. About the same size as the Axim, it includes both built-in WiFi wireless networking and Bluetooth short-range wireless communications. It also has an integrated fingerprint scanner that can limit access to programs or data to the device's owner.
For its initial thrust in handhelds, Dell is going after HP and the Pocket PC. But the new Palm operating software can run on the same hardware as Pocket PCs with fairly minor modifications, and Dell may do a Palm version in the future. While much bulkier than the $499 Palm Tungsten T (BW-Dec. 9), the Axim boasts a faster processor and more memory at a much lower price.
I have no doubt that Dell's entry into handhelds will have the same effect as its presence in desktops, laptops, and servers: It will drive down prices across the board. So far, this has been a very good thing for consumers and corporate buyers. But I do have one reservation. Dell's product development has, in effect, stood on the shoulders of research-minded competitors such as HP and IBM, whose ability to fund research has been hurt by the relentless squeeze on margins.
As Dell's dominance grows, the industry's ability to innovate may depend on the company's willingness to go beyond its current minimal research and development spending. Designing the first handheld that could function as either a Palm or a Pocket PC would be an interesting place to start.
By Stephen H. Wildstrom
Before it's here, it's on the Bloomberg Terminal.
LEARN MORE