Look, Ma, No Neck Pain
How to set up an ergonomically correct workstation for your kids.
Everyone knows that a poorly configured computer workstation is bad for your health. But did you ever think about how it can affect your children?
Ergonomists and pediatricians are becoming increasingly alarmed about the potential for computer setups to cause in children the same physical ailments plaguing many adult users: a range of musculoskeletal problems, from neck pain to carpal tunnel syndrome. With kids as young as 2 starting to use computers and some middle school students sitting at the PC for up to four hours a day, experts figure it's only a matter of time before repetitive stress injuries become a serious problem. "These children could become the next generation of walking wounded," says Karen Jacobs, a professor in Boston University's occupational therapy program.
In the meantime, you can do a lot to set up a home workstation that's not a health hazard. You can buy some of the many child-size computer accessories and furniture available on the market or put together your own homegrown solution. In either case, the underlying approach is the same. "What works for a 3-year-old might not work for an 11-year-old," says Anne Kramer, CFO of the International Children's Ergonomic Foundation (925 943-7207) and CEO of ErgoWorks, a Belmont (Calif.) computer accessories maker. So your best bet is to try to build a measure of adaptability into all your components.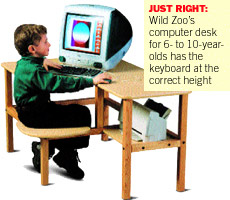 CHAIR AND DESK
The rule of thumb is that your child's legs should be at right angles to the floor, with knees slightly below the hips and feet firmly on the floor or a footrest. The reason: If the seat is too high, there will be too much pressure on the thighs; if it's too low, it stresses the lower back. Dangling feet can cut off circulation to the back of the knees and impinge on the nerves. The back of the chair should also support the contours of the lower back so your child doesn't suffer a sore back and neck.
The typical office chair isn't designed for users under 5 feet tall. The ideal solution is an adjustable child's chair like one from ErgoWorks (askergoworks.com), which is introducing two models costing about $350 that let you change the height, seat pan, and lumbar support. Or, for $50, there's a chair from Dynacraft/Oakcroft (dynakidz.com), aimed at ages 2 to 10, with four adjustments. You can also buy an adjustable desk that can be raised to five different heights, for a total of $199. An easier solution is to have your child sit on some cushions and plop phone books on the floor for a footrest.
KEYBOARD AND MOUSE
You want your kids to use the keyboard and mouse without having to lift their shoulders or arms (meaning the components are too high) or bend their wrists (too low). Buy an adjustable keyboard tray ($150-$200), which can be fastened to the bottom of your work surface. Or you can purchase a kid-size computer desk like one from Wild Zoo (wildzoo.com). The $169 preschool model comes with a chair low enough for a 2-year-old. For $29 more, you can buy a kit with fasteners that attach to the furniture and raise it a total of four inches. There's also a bigger $189 elementary school model for 6- to 10-year-olds. At the least, "having your child hold the keyboard on his lap is better than letting him hunch up over a high surface," says Cheryl Bennett, an ergonomist at Lawrence Livermore National Laboratory in Livermore, Calif.
Standard keyboards and mice aren't made to fit kids' hands, either. Their fingers have to stretch a lot, causing such problems as tendinitis. In both cases, there are smaller products on the market, such as LittleFingers from DatadeskTechnologies (datadesktech.com), a keyboard that costs $69.95 with a built-in trackball and $49.95 without it. KidzMouse, for $24.95, is about half the size of a regular model and comes in such designs as a dinosaur and bumblebee (kidzmouse.com).
MONITOR
Placement is critical. To avoid neck strain, the monitor should be directly in front of your child, about an arm's length away, with the top of the screen at eye level. You can buy a monitor that can be moved up or down, or get a product like Dynacraft's kids' desk, which has an adjustable monitor shelf. Of course, if the monitor is too low, you can just place it on some phone books; too high, raise the chair.
Install your workstation in the kitchen or den so you can observe your kids' posture and monitor how long they've been sitting there. Enforcing two-minute breaks every 20 to 30 minutes is crucial. No matter how perfectly positioned they are at the computer, kids can run into trouble if they don't get up and stretch regularly.
By Anne Field
Before it's here, it's on the Bloomberg Terminal.
LEARN MORE