Most investors lost money in telecom. Could Citigroup (C ), whose Salomon Smith Barney unit grossed about $2.9 billion in fees from telecom deals from 1997 through 2002, end up out of pocket, too?
Based on back-of-the envelope calculations, Citi may indeed be lucky to break even. The bank declined to comment.
Subtract star analyst Jack Grubman's salary, for starters. Over the course of the boom, he made an estimated $100 million. That includes a $15 million loan Citi forgave this year. Earlier, it paid out $5 million to the NASD in fines related to Grubman.
Then Citi may pay up to $500 million to settle ongoing investigations into analysts' conflicts of interest. It also faces more than 60 class actions alleging bad analyst advice. Historically, a third of securities class actions are dismissed; the rest settle for an average of $40 million each, so let's say $1.6 billion for Citi.
Finally, Citi has taken write-downs and raised reserves for its own telecom investments. Using clues in its earnings reports, analysts figure that it has lost at least $800 million so far.
Grand total: A tad more than $3 billion. Seems that Citi's top-notch telecom business wasn't worth a candle.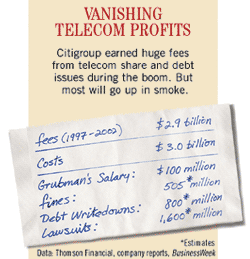 By Heather Timmons in New York
Before it's here, it's on the Bloomberg Terminal.
LEARN MORE