This Wagon Can Move
Audi's Avant is powerful and nimble.
Long eclipsed by minivans and sport-utility vehicles, station wagons are now making a modest comeback. Audi's A4 Avant Quattro, which sells for around $40,000, is proof enough that wagons are a lot cooler than they used to be.
The all-wheel-drive Avant handles nearly as nimbly as BMW's 3-series models, and it's as luxurious as any European entry-luxury car. I climbed into the Avant and immediately noticed the smooth leather and polished chrome. My test car had very supportive black leather seats with six levels of heating. And there's plenty of legroom for drivers taller than 6 feet. The red LED gauges are as modern-looking as anything on the road. Another great thing about the Avant (and any Audi, for that matter): Everything on the dashboard is snapped together with near-perfect precision.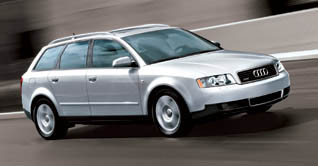 The car has a great ride, thanks to an all-new 3-liter V-6 engine that kicks out 220 horsepower. Coupled with a smooth transmission, the Avant powers ahead nicely. Like any Audi, the steering is fantastic. The car can dash between lanes like a good sports sedan. I never felt like I was driving a bulky wagon.
The Avant seats five, and the rear cargo area can take a few golf bags with no problem. But the legroom is a little tight for passengers in the rear seats, and even the Ford Escape compact SUV has more storage space. Still, for the way many people use SUVs, this car could be a reasonable substitute. And there's a bonus: The Avant doesn't have an SUV's rough-and-tumble ride.
It's also a lot more stylish. Audi's marketing folks say the car is so much more fashionable than yesteryear's wagons that they call the Avant a sedan. It's a wagon, but only because wagons have come a long way.
By David Welch
Before it's here, it's on the Bloomberg Terminal.
LEARN MORE