Graphic: The Best of the Independents
Investars.com, an online analyst-rating service, tracks the research of 104 firms, including Wall Street brokerages and boutiques. At BusinessWeek's request, Investars ranked the top performers among the independent shops that mostly offer investment banking. To evaluate each firm's performance, Investars creates a hypothetical portfolio, which "buys" or "sells" whenever a stock is upgraded or downgraded. The number of shares varies according to the strength of the recommendation—more shares for a strong buy, for example, than for a buy. The final score is a weighted average of returns for all stocks a firm covers for which Investars has a complete history of recommendations. The best calls may involve multiple buy or sell recommendations. Calls and returns are for the 12 months through Nov. 20.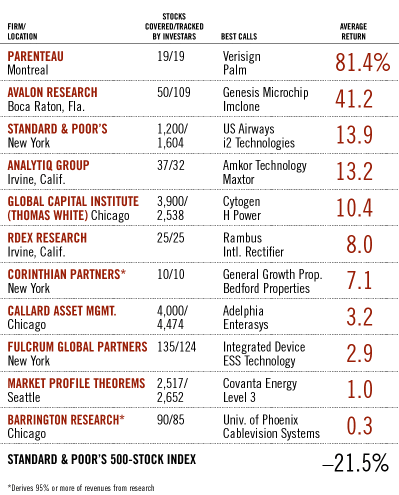 Before it's here, it's on the Bloomberg Terminal.
LEARN MORE