Yu Youjun: A Modern Mayor
Yu Youjun heads China's most open city, a haven for Hong Kong and Taiwan electronics makers. He's in charge of a rapid reform program that serves as a model for the entire mainland. And even though he has a PhD in Marxist studies--and served as the Communist Party's propaganda chief for Guangdong Province--Yu studied business at Zhongshan University and has long backed China's opening to the world.
This resume helps explain why Shenzhen Mayor Yu has become a pivotal player in China's integration with Taiwan and neighboring Hong Kong. Energetic and open-minded, 49-year-old Yu is one of a growing breed of Communist Party cadres guiding China's transformation into a modern market economy. After taking the helm in Shenzhen in 2000, Yu quickly began pushing to open state-dominated sectors to foreign investment. For instance, he's backing Newbridge Capital's proposed acquisition of Shenzhen Development Bank Co. And he encourages overseas investors to buy stakes in enterprises that provide gas, water, and food in Shenzhen. "We are a pilot city for carrying out reforms," Yu explains. "Shenzhen will lead the country in the opening of our economy."
Yu also has played a key role in wooing Taiwanese investment. Last year, he traveled to Taipei on a promotion tour--the first trip across the Taiwan Strait by a mainland mayor since 1949. Some 3,400 Taiwanese companies already have invested $4.7 billion in Shenzhen factories, making everything from computer monitors and cell phones to cables and keyboards. Now, Taiwanese companies are building research & development centers to tap China's vast pool of cheap and able engineers.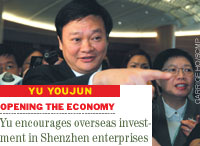 Yu's long-term agenda is ambitious. He wants to more thoroughly link Shenzhen to Hong Kong by improving snarled border crossings, developing joint research centers with tech institutes in the city, and meeting regularly with regional officials. As Yu sees it, Hong Kong will continue to lead the mainland in financial and information services, while Shenzhen will be the production and engineering base for light-industrial goods, software, and advanced electronics. "We must seek common development," Yu says.
High-gear capitalism may seem like an odd agenda for a former propaganda chief. But during Yu's years in the Guangdong government, the province was regarded as the most progressive in China. Now he sees himself serving his country by building a stronger Shenzhen and tying it to Hong Kong and beyond. "If we combine our strengths, we can become a high-tech and service base for all of Asia-Pacific," says Yu. Think of that as propaganda for the new China.
By Dexter Roberts in Shenzhen
Before it's here, it's on the Bloomberg Terminal.
LEARN MORE