Vincent Lo: A Developer Drives Into the Heartland
Back in the mid-1980s, many of Hong Kong's moneyed elite were cashing in their chips and moving abroad in fear that a Chinese takeover would destroy the British colony. But Vincent Lo didn't budge. Indeed, he decided the time was ripe to bet on the mainland. The son of a prominent Hong Kong developer, Lo had set up his own development and building-materials company in the early '70s. Then, in 1985, he launched a $23 million venture with the Communist Youth League to finance a hotel in Shanghai.
That investment is now blossoming into a multibillion-dollar portfolio of commercial and residential projects. Lo, as much as anyone, has set out to reshape urban China by building developments that reflect the country's unique history while embracing modern planning. Today, half of the assets of his Shui On Holdings Ltd. are on the mainland--mostly in Shanghai real estate--and he expects that to grow within two years to 80%. "A lot of people thought I was crazy," says Lo. His answer: China "will propel the whole world's growth."
Lo's crown jewel is the glitzy Xintiandi project in Shanghai. The two-year-old development mixes commercial space with dozens of restaurants and boutiques in a historic neighborhood. The final price tag by the end of the decade: $3.5 billion. Xintiandi has been such a success that Lo is now backing a similar project in Hangzhou, 100 miles south of Shanghai.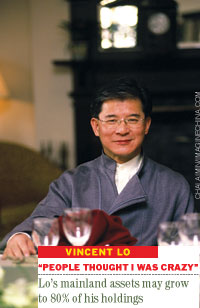 Now, Lo is in the vanguard of the next big move for Hong Kong money: the investment drive deep into China's vast heartland. Four years ago, Lo founded a group to spur economic development in the Yangtze River basin, stretching from Shanghai to Chongqing. This year alone, the indefatigable 54-year-old developer has made three trips to the U.S. and Europe to drum up investment for the region. "The opportunities are in the interior," he says.
Lo is backing that hunch with big money. He and his partners have invested more than $100 million in a string of formerly state-owned cement plants in Chongqing, Guizhou, and Sichuan in a bid to profit from rapid growth in China's west. Local officials welcome the tax revenues, the jobs, and a new way of looking at things. Through his investment, Lo "solved financial problems and installed a modern management system" at the Di Wei cement factory, says Guo Ruqi, the Communist Party secretary in Jiangjin, a Chongqing county with 1.5 million residents 25 miles south of the city center. Part visionary, part cement salesman: It's an unusual combination. But Lo is doing his bit to modernize China.
By Mark L. Clifford in Chongqing
Before it's here, it's on the Bloomberg Terminal.
LEARN MORE