Hong Chen: Aligning China's Stars with the Valley
Like thousands before and after him, Hong Chen left China to seek his fortune in the U.S. and found it in Silicon Valley. Now head of computer-networking company Gric Communications Inc. in Milpitas, Calif., Chen has decided to give something back to China. Three years ago, he founded Hua Yuan Science & Technology Assn. to build bridges between Chinese-born technology leaders living in the U.S. and their counterparts at home. Hua Yuan has become an important information exchange that can "enable Chinese enterprises to go global," says Chen.
Modeled after similar groups of Indians and Taiwanese, Hua Yuan--it means "China Resources"--has enlisted the country's biggest info-tech stars. Mainland members include Yang Yuanqing, CEO of computer maker Legend Holdings; Edward Tian, the U.S.-educated head of state-owned telecom operator China Netcom; and Daniel Mao, CEO of Internet portal SINA.com. U.S.-based members include execs from WebEx Communications Inc. and Applied Materials Inc. Hua Yuan "is pretty much a Who's Who of China high-tech companies," says Chen. "It's really a club of the future of Chinese enterprises."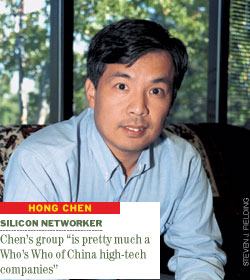 From an early age, Chen seemed destined to join a high-powered group. Born in 1962 in Xian, a former Imperial capital, he skipped high school and at age 15 enrolled in Xian Jiaotong University, where he got a bachelor's degree in computer science. Chen left China at age 23 to study in the U.S., earning his doctorate at the State University of New York at Stony Brook in 1991. After graduation, he founded Gric and took the company public in 1999, raising $64 million. He and his wife own 7% of the company, whose share price is down along with those of the rest of the tech world.
Chen believes there's almost no limit to what mainland China can achieve, and he thinks Hua Yuan is going to play a part by helping Chinese companies find partners in Silicon Valley. Interest is growing: Last spring, more than 2,000 people showed up at a Hua Yuan job fair in California. Clearly, Chen isn't the only Chinese techie eager to give something back.
By Bruce Einhorn in Hong Kong
Before it's here, it's on the Bloomberg Terminal.
LEARN MORE