The leading edge of a new generation of Palm handhelds (PALM ) has arrived, and the first two products--the Tungsten T from Palm Solutions and the Clie PEG-NX70V from Sony Electronics (SNE )--could hardly be more different from each other. Both run the new OS 5 system software from PalmSource, and both offer the contact list and calendar that have always defined Palms. But the Tungsten, tiny enough to slip into a shirt pocket, is a power tool for the mobile executive, while the Clie is built for fun, taking Sony's passion for multimedia handhelds to a new level.
At first glance, the $499 Tungsten seems to have neither a keyboard nor a way to enter Graffiti--a simplified way of writing the alphabet that software can easily turn into text. The secret is that the bottom inch or so of the case, which carries the four familiar Palm buttons plus a new four-way navigation pad, slides down to reveal a Graffiti entry area. Closed, the Tungsten is just 4 in. by 3 in. and weighs just 5.6 oz.
When open, the Tungsten strongly resembles the Palm m515, which it replaces, in both form and function. A new Texas Instruments (TXN ) processor makes performance a lot zippier, and the screen resolution has quadrupled to 320 pixels by 320 pixels. Storage can be expanded beyond the basic 16 megabytes with SD memory cards. There's a real sound system, including a microphone and a stereo-headphone jack. But to use it as a music player, you'll have to download software from Real Networks (RNWK ).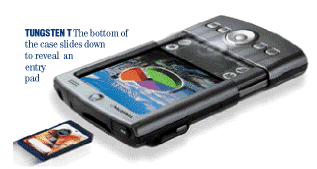 The other big hardware change--built-in Bluetooth short-range wireless communications--falls well short of its potential, at least for now. In theory, you could sync your data wirelessly with a Bluetooth-equipped PC, but in practice, it's very difficult to set up and will stay that way until Microsoft (MSFT ) adds Bluetooth support to Windows next year. (It's a bit easier on a Macintosh.) You can use the Tungsten with a Bluetooth phone to connect to the Internet, but the unit lacks a decent mail program and Web browsing is no fun on that tiny screen. If you want a phone-Palm combo, get a Handspring Treo.
If the Tungsten evinces elegant minimalism, the $599 Clie goes for a multimedia extravaganza. Like previous Clies, the big handheld--5 1/2 in. long when closed and weighing 8 oz.--uses a flip-open design with a camera built into the hinge. (A model with no camera costs $100 less.) Opening the Clie reveals the basic Palm buttons and a keyboard that offers an alternative to using Graffiti. The display also swivels, so the unit can fold into a tablet or stand, tepee-style, to show pictures or video on the screen.
The Clie features a slot for a WiFi wireless networking card ($150). It lets you browse the Net or fetch e-mail, but the Clie's excellent screen is still too small for efficient Web-page viewing, and the Clie Mail program isn't very good. You can do a wireless HotSync, but this will probably work only within your local network. It's less trouble just to pop the Clie into its cradle. Moreover, even the new Palm operating software has limited networking abilities. One consequence: It is almost impossible to diagnose common wireless-networking problems.
Clies have always specialized in rich content--playing music and movies, running slide shows, and doing other things that we supposed were impossible on a Palm-based handheld before OS 5. One handicap that even Sony's clever engineers couldn't overcome in the older models was a very slow processor. The new version boasts a speedy Intel XScale chip that makes it a pleasure to play MPEG or Macromedia Flash movies, listen to songs, view pictures, and even do a little light photoediting. Sony supplies a vast range of software to take advantage of these features and a MemoryStick slot for the expansion memory you'll want to run them. To manage the applications, Sony scrapped Palm's static display of icons in favor of a Start menu-like list of programs that you can scroll through and select with a jog wheel on the left side. The new approach takes a bit of getting used to, but it works well for the sort of long program list you are likely to have on a Clie.
If you want a high-end handheld that's all business and that you can carry almost without being aware that you have it with you, the Tungsten is just the thing. But if you prefer the biggest, brassiest, and most fun Palm device ever, go for Sony.
By Stephen H. Wildstrom
Before it's here, it's on the Bloomberg Terminal.
LEARN MORE