Wireless Gizmos with Fewer Strings
Because the goal of this column is helping technology users help themselves, I generally stay away from products that require a hand from corporate tech staffs. But I've decided to bend that rule and take a look at GoodLink, a new system for delivering e-mail and other information wirelessly to mobile executives.
You can arrange do-it-yourself wireless mail delivery through a number of providers, including Research in Motion's BlackBerry (RIM ), Handspring's TreoMail (HAND ), and Sprint PCS's Business Connection (PCS ). But these solutions, which relay mail from your desktop computer, have big shortcomings and pose security risks because they work only when a user is logged in to the desktop. If your office computer is a laptop that you take with you, the relay won't work. So when Good Technology (www.good.com) offered to set up GoodLink on my Microsoft Exchange server, I gave it a try.
Services such as GoodLink and BlackBerry Enterprise Server, which handle the wireless relay from a mail server, enhance the productivity of mobile workers. All desktop-based wireless relays let you read mail, but the best server versions let you avoid having to look at the same messages again on your PC: When you delete a message, it's gone for good, and you can move messages from your in-box to Exchange mailbox folders. GoodLink also displays attachments, including Microsoft Word and Adobe Acrobat documents and Excel spreadsheets, without any add-on software. Another GoodLink advantage: It synchronizes mail, contacts, and calendar items over the air. A BlackBerry needs to be placed in a desktop cradle for a full sync.
GoodLink runs over the same Cingular Wireless paging network as BlackBerry and, if you want, you can receive your GoodLink mail on a BlackBerry 950 or 957 handheld. However, I recommend Good's own G100. The 4-in.-by-2 3/4-in. unit, a bit smaller than the BlackBerry 957, resembles the RIM product closely enough that the two companies are tangled up in suits and countersuits claiming patent infringement. I found Good's controls and miniature keyboard both easier to use than BlackBerry's.
Unlike BlackBerry, the G100 doesn't offer a browser as an option, but that's no loss. Neither the device nor the network is designed for Web surfing. Instead, GoodInfo applications let you place inquiries about stock prices, weather forecasts, flight information, and the like and receive the results within minutes by return e-mail. A software development kit lets companies construct their own GoodInfo applications to query databases, customer-relations management systems, or other corporate data.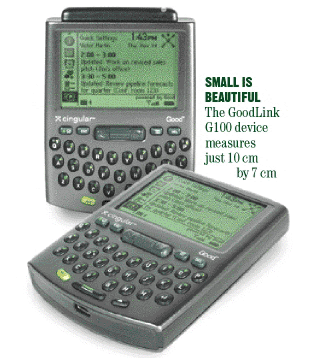 Despite the G100's strengths, Good, which began its corporate life making MP3 music players for Handspring handhelds, doesn't really want to be in the hardware business. The company plans to offer its software services next year on Palm devices--such as the Handspring Treo and forthcoming Palm Tungsten W--that run on wireless-phone networks. A Pocket PC version is planned once Microsoft (MSFT ) provides support for built-in keyboards, probably in late 2003. Other mail providers, such as JP Mobile, Infowave (IWMSF ), Synchrologic, and Wireless Knowledge, already offer wireless service to a variety of handhelds. RIM is moving in a similar direction: A recent licensing deal with Nokia (NOK ) could lead to a BlackBerry-like service on a new generation of keyboard-equipped phones.
During a couple weeks of use, I found the GoodLink service to be a real time-saver. The contact and calendar functions, while not quite up to the level of a Palm or Pocket PC, were good enough that I felt comfortable with the G100 as my only data device, and continuous sync with Outlook was a huge plus. Good sells GoodLink through Cingular. The server software costs $2,000, and monthly service starts at $34.99 for 1 megabyte of data. The G100, available in quantity in January, is expected to be priced at around $300.
Most mobile execs can profit from access to e-mail and corporate data wherever they happen to be. But wireless access makes sense only if it is secure, simple, and affordable. GoodLink looks like a winner on all counts.
By Stephen H. Wildstrom
Before it's here, it's on the Bloomberg Terminal.
LEARN MORE