Now that you've refinanced your house, what about your car? If you bought the vehicle with a loan a year ago, you're probably paying 8% on the borrowed amount. But with refi rates on almost-new cars below 6%, you could save several payments by the end of the original five-year loan (table). Unlike mortgage refis, you don't pay closing costs on a rejiggered auto loan, though you may pay a small fee to transfer the title to a new lender.
LowerMyBills.com, which works with several lenders, offers good rates. A unit of Capital One Financial, PeopleFirst.com has a 5.49% rate for up to 36 months, and 5.95% for four or five years. For help, check out the calculator at PeopleFirst.com.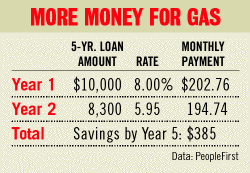 By Ronald Grover
Before it's here, it's on the Bloomberg Terminal.
LEARN MORE