CO Gas: Thwarting an Invisible Killer
Every fall, as families fire up their gas furnaces and fireplaces, there's an outbreak of carbon monoxide poisonings. CO has become the leading cause of accidental poisoning deaths in the U.S., at more than 2,000 a year.
Incomplete combustion of fossil fuels is the culprit. The best defense: Check the chimney and furnace annually. Look for blocked or cracked vents on clothes dryers, water heaters, and stoves. Never use a barbeque grill or an oven to heat a room. You can't see or smell the gas, so it's prudent to get a CO alarm for $25 to $50. Some cities require it.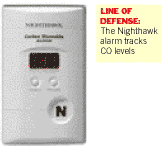 Kidde's Nighthawk Premium Plus and Senco's Model One have peak-level memories, which keep track of the highest CO level. That lets you spot problems before the alarm goes off.
By Larry Armstrong
Before it's here, it's on the Bloomberg Terminal.
LEARN MORE