What's Inside a CEO's Bag
What 2 top executives are playing on the course
JACKSON W. MOORE
CEO, Union Planters Corp.
HANDICAP: 5.4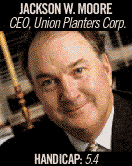 "I've got Spalding Top-Flites from the 1950s, MacGregor VIPs, Maxfli Australian Blades, and Mizuno Grads stored at home because I can't bear to give my old irons away. It would be like taking money out of the bank. For now, however, I'm investing in current technology."
DRIVER/3-WOOD
I've used every Callaway driver made, and my 10-degree VFT is the best ever. With the shaft I kept from an ERC-II, it hits the ball real straight and farther than I hit the ball when I was 30.
My Big Bertha 3-wood is the oldest club in my bag--and my most reliable if I'm trying to hook the ball, whether off the tee or from the fairway.
5-WOOD
I'm a low-ball hitter, so my 17-degree Orlimar is great when I have to hit, say, 200-plus yards over water.
IRONS
I could move the ball better with my forged irons, but my Hogan Apex Plus irons (3-PW, with D-4 shafts), are a lot more forgiving.
WEDGES
I liked my Cleveland sand wedge so much I bought Cleveland's 60-degree because it looks the same at address and feels much the same on the takeaway. That makes me comfortable over the ball.
NITPICKS
I picked up this tool when playing in Wyoming. I hate it when people don't repair ball marks on the greens, or mark the ball carefully. The number "1" reminds me of one-putting.
PUTTER
I pulled my never-used Ping Pal 2i out of the closet when I went through a dry spell with my Anser. The composite insert sounds and feels different, and I've been putting better. So much of putting is in your head.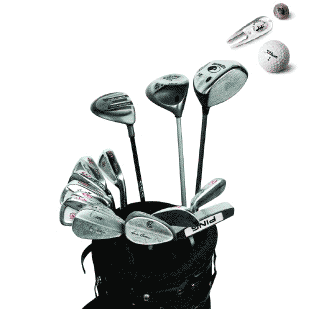 STEVE BENNETT
CEO, Intuit
HANDICAP: 3.5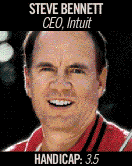 ""Because intuit supports small businesses with its software products, I turned to local clubmakers in my area when assembling my set: driver, woods, and irons from Matt Coe of Bay Golf in San Bruno, Calif.; wedges and putter from Art Chou of Pixl Golf in Palo Alto, Calif. The bottom line: If I make a bad shot, it's not the clubs; I have the equipment custom-fitted."
WEDGE
My Pixl 60-degree lob wedge, with a 3/4-inch-over-standard shaft, helps me hit the difficult touch shots and save strokes around the green from some of the odd places I put myself in.
WOODS
When Matt custom-fit my KZG strong 3-wood and 4-wood, we added 3/4 of an inch to the custom Graphite Design shafts. I'm hitting it longer than ever.
IRONS
Having worked at GE (GE ), I think of golf in Six Sigma terms: Eliminate the variation in both my swing and clubs. My Kent Silver Diamond custom non-offset cavity backs (3-PW) have been key to my lowest-ever USGA handicap.
PUTTER
I wanted the crisper feel of steel rather than polymers and a slightly longer-than-usual shaft to help me make five-footers more consistently. Pal 2i 1.8 model with steel pixels and a 37-inch shaft works for me.
DRIVER
I don't hit it all that long, but with my Titleist 975D Driver with custom ProForce 65 ATR stiff-flex shaft, I usually hit it straight and stay out of trouble.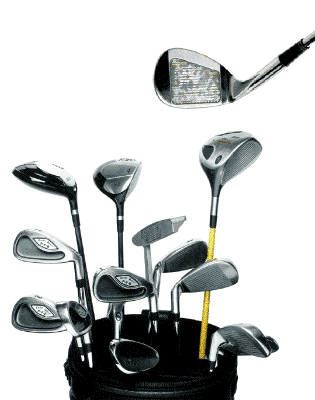 Before it's here, it's on the Bloomberg Terminal.
LEARN MORE