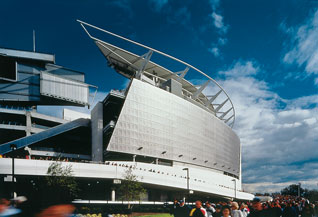 The Cincinnati Bengals' Paul Brown Stadium
Photo by Tim Griffith
The winners of the sixth annual BusinessWeek/Architectural Record Awards comprise an extraordinary collection of architects and their clients who came together to create workplaces designed to promote innovation and creativity. In a corporate world obsessed with cost-cutting, architecture was used to reduce space, increase efficiency, and save money--without skimping on innovation.
Peruse the following pages, and you will find office space organized into "neighborhoods" to foster a sense of common enterprise; informal, flexible accommodations for meetings that stimulate impromptu collaboration; and great open bays of workstations, reflecting a flattened hierarchy. Most physical remnants of command-and-control bureaucracy are banished from these buildings.
Five of our eleven winners are corporate or university offices, and most of the others--from an automotive-parts plant in Mexico to Paul Brown Stadium in Cincinnati--were designed around their role as a workplace, whether for motor assemblers or football players.
We are very proud of this awards program, sponsored by the American Institute of Architects in collaboration with BusinessWeek and Architectural Record (both publications of The McGraw-Hill Companies). It uniquely invites businesspeople as well as architects to judge how architectural solutions achieved measurable results in solving difficult business problems. Surely, to accomplish this while building outstanding structures represents an achievement worth heralding.
By Gerry Khermouch
Before it's here, it's on the Bloomberg Terminal.
LEARN MORE