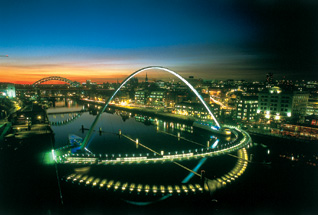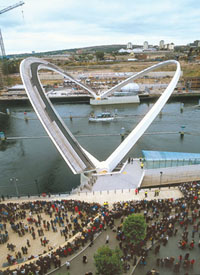 GATESHEAD MILLENNIUM BRIDGE
Gateshead, England Client Gateshead Council
Architect Wilkinson Eyre Architects, London
Building Type Pedestrian bridge
When the new footbridge tips to one side (right), ships can pass easily beneath
Newcastle and Gateshead are twin industrial cities in the North of England that face each other across the River Tyne. Long in the shadow of its neighbor, Gateshead needed to regenerate its rundown Tyneside district, boost its civic identity, and strengthen ties to its sister city.
The solution? A striking new pedestrian bridge across the Tyne. The $25 million structure is not only remarkably beautiful but also employs a distinctive method of tilting up to allow ships to pass underneath. The bridge is comprised of a curved footpath and a high parabolic arch that intersect at their ends. When tall boats approach, the path simply rotates 45 degrees up, so that the two metal arches both stand well above the water level.
Juror Chee Pearlman describes it in these terms: "It's such a stunning move in terms of engineering, and yet so simple. It's a simple motion, and yet it takes your breath away when you watch it happen." Locals have taken to referring to the bridge as "the winking eye."
With Tyneside's broader redevelopment just getting under way, it's hard to quantify the success the bridge has had. Aside from a grain silo converted to an arts center, there simply isn't much yet to draw Newcastlers over. Even so, the bridge's designers, Wilkinson Eyre Architects, note that "thousands of people currently cross each week despite a lack of any tangible destination at the other side." With a futuristic music center due to open in Tyneside next year, it could end up a very crowded bridge.
Before it's here, it's on the Bloomberg Terminal.
LEARN MORE