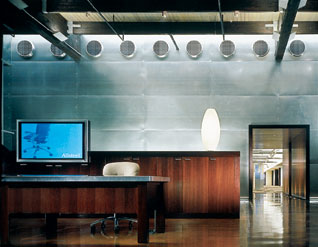 ALLSTEEL HQ
Muscatine, Iowa
Client Allsteel
Architect Gensler, Chicago
Building Type Manufacturer's corporate offices
Allsteel's Iowa facility uses lots of concrete to convey Midwestern basic values
Photo by Hedrich Blessing
Allsteel Inc. wanted to stress the brand's down-to-earth Midwestern values: warmth, modesty, and authenticity. So the office-furniture maker bought an abandoned 65,000-square-foot factory and decked it out with fireplaces, along with plenty of exposed concrete floors and ductwork. Working areas use the company's own furniture to serve as an "active showroom." Even the CEO sits in an Allsteel cubicle.
Business clients like it. After a year, corporate accounts have soared from a negligible 3% of sales to 15%. Thanks to stronger brand equity, Allsteel was able to raise its prices by 4%--at a time when most companies in the U.S. are cutting them. The new headquarters has generated closer collaboration among employees and has shortened the time for product development.
Before it's here, it's on the Bloomberg Terminal.
LEARN MORE