Mad As Hell at Microsoft
A new licensing plan is ticking off lots of corporate buyers
Microsoft Corp.'s (MSFT ) new software licensing program for businesses is such a sore topic that if you ask Chairman William H. Gates III about it, he gets downright testy. "People spend more on paper for these employees than they spend on the Office productivity software," Gates snaps.
He says Microsoft products amount to no more than 1% to 2% of a company's technology budget, and says the billions companies pay for Microsoft's suite of word-processing, spreadsheet, and presentation software is "almost a rounding error" compared with the total they invest in worker productivity.
It's no wonder Gates is on the defensive. Microsoft's licensing scheme has stirred up angry customers who gripe that the pricing rules that went into effect in August are increasing their software bills. According to a September survey of corporate technology buyers by Goldman, Sachs & Co. (GS ), only 7% are pleased with the changes. Moreover, 37% signed up but aren't happy about it, and 7% are actively seeking alternatives. Technology research firm Gartner Inc. estimates that most customers that didn't already have multiyear licenses for Microsoft software will wind up paying more as a result of the company's policy changes. "It's a revenue grab," says Kaiser Permanente Chief Information Officer Cliff Dodd, who grudgingly signed up for the program. "It's an interesting way to run a business, and I say that with disdain."
It's not just customers who are peeved. PC makers say Microsoft is leaving less money for companies to spend on other products, jeopardizing their already fragile business amid the worst-ever tech slump. "That's delaying the replacement of PCs," says a senior executive at a major computer maker.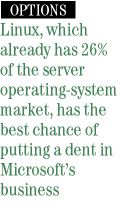 The flareup comes at a delicate time for Microsoft. On the eve of the resolution of the company's federal antitrust case, state attorneys general are questioning whether the software giant is unfairly taking advantage of its Windows and Office monopolies to raise prices. Iowa Deputy Attorney General Tam B. Ormiston says his state will consider a new legal action on the licensing plan after it gets a ruling on the original case by U.S. District Court Judge Colleen Kollar-Kotelly.
Despite the tumult it created, Microsoft says it was simply trying to make things easier for corporate buyers. "We had strong feedback from customers that our volume licensing programs were confusing and hard to administer," says Bill Landefeld, Microsoft's vice-president for worldwide licensing and pricing. So Microsoft came up with Software Assurance. It's basically a subscription: Sign a multiyear deal, and you can use Microsoft's software and get upgrades for the term of that contract. Trouble is, customers who pass on the new program often end up paying more, since Microsoft eliminated discounts for upgrades. Microsoft estimates that roughly 50% of its volume-license customers will see no change, 20% will pay more, and 30% will pay less.
Customers say Microsoft sprang the plan on them and loaded it down with legalese. Vancouver (B.C.) resort operator Intrawest Corp. (IDR ) assigned a tech staffer full-time for six months to figure out the impact. "The most complex code coming out of Microsoft shouldn't be written by the lawyers," says Intrawest Chief Information Officer Matthew Dunn. Microsoft acknowledges that it failed to explain the advantages of the system, including reductions in support and administrative costs. "Mea culpa. I screwed up," says Orlando Ayala, the company's group vice-president for worldwide sales, marketing, and services.
For customers who were already in the habit of upgrading often, a long-term license is a sweet deal. They pay less for software they were going to buy anyway. At Bellevue (Wash.) truckmaker Paccar Inc. (PCAR ), CIO Patrick F. Flynn estimates that as a result of signing up for a licensing agreement, he'll save more than 10% a year on software for his 10,000 desktop computers. "It funded the upgrades we had already planned," Flynn says.
But tech buyers who typically wait four or more years to upgrade may get slammed no matter which way they turn. Either they sign up for Software Assurance and buy products they don't need, or they don't sign up and pay full price when they ultimately pick up new licenses. The new licensing policies will increase their bills anywhere from 68% to 107%, according to Gartner. An Office upgrade for a company with 500 licenses, for example, could climb from roughly $112,000 to $187,000.
Analysts expect the new deal to kickstart Microsoft revenues. In the current fiscal year, which started in July, Microsoft expects Office sales to soar by 10%, to $10.5 billion, largely on the wings of the new licensing program. Much of it is a one-time phenomenon, as companies rush to sign up. But Prudential Securities estimates that the new program will add roughly $600 million in unearned revenues in each quarter.
Microsoft's long-range goal is to turn revenue into a steady, predictable stream. "Investors don't like stops and starts in growth," says Goldman, Sachs & Co. analyst Rick Sherlund. "This will shave off peaks when they launch new products and fill in valleys when they don't."
The change seems likely to shave PC makers' revenues, too. Already, some businesses are extending the time they hold onto PCs. Paper-products maker Boise Cascade Corp. (BCC ), for example, used to replace PCs every three years. Now, with the new licensing, the company will stretch that to four.
The licensing has pushed some angry tech buyers to consider switching to software from Microsoft's rivals, including the Linux operating system. "This is a motivator for us to go more completely toward Linux than we would have otherwise," says Michael Prince, CIO at Burlington Coat Factory Warehouse Corp. (BCF ) He already runs all of the PCs in 320 stores with Linux, and is adding more.
Competitors smell blood. Fierce Microsoft rival Sun Microsystems Inc. (SUNW ) unveiled plans Sept. 18 to launch a low-cost Linux-based desktop computer. Sun is aggressively pushing StarOffice, a suite of applications that are compatible with Microsoft Office. The largest customers pay $25 for StarOffice vs. $185 a year for Office, with Software Assurance.
Linux has the best chance of putting a dent in Microsoft's business. While the Linux operating system holds only a minuscule market share in desktop computers, it already has 26% of the server operating-system market, compared with 49% for Microsoft, says IDC analyst Dan Kusnetzky. He says a number of disgruntled Microsoft customers have launched pilots for testing Linux. What's more, a movement is growing among foreign governments to make it official policy to promote the use of open-source software such as Linux. Such proposals are under consideration in 25 countries. Microsoft counters by encouraging governments not to mandate software.
But Microsoft's not much worried about challenges to its desktop hegemony. The reason: It's loads of work and expense to migrate a workforce to new word-processing and spreadsheet programs. Still, Ayala says he is offering irked customers increased flexibility in licensing terms, though the company won't provide details.
That may mollify some buyers, but it won't make Microsoft's headache go away. It has soured relations with many businesses at a time when they're trying to cut their technology costs-- not watch them grow.
By Jay Greene in Redmond, Wash.
Before it's here, it's on the Bloomberg Terminal.
LEARN MORE