This Is My Farm
China's rural poor get long-term rights
Since he was a child, Fu Wenli's family has scratched out a living cultivating a small patch of land in the village of Jubian, on Hainan Island. Since all land in China belongs to the government, his family has had little incentive to increase production through investment. But in 1998, the government issued Fu a 30-year contract to farm his 8.2 acre plot. Now Fu, 60, feels secure enough to invest for the future. Using $12,000 he saved over the years, Fu has installed a new irrigation system and bought a tractor. He is expecting a big payoff on a crop of bananas.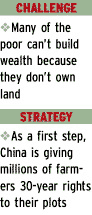 Land rights are critical to reducing rural poverty. Without them, the poor lack both collateral for loans and wealth they can pass on to heirs. Yet in most developing nations, land reform remains an unfulfilled promise. China is dealing with the issue on a massive scale. Beijing plans to give all of its 210 million rural families, or about 850 million people, 30-year land-use contracts like Fu's. A 17-province survey by Beijing's Renmin University and Seattle's Rural Development Institute says 98 million families now have contracts. Land tenure "gives farmers the stability of ownership to invest for the long-term," says Wang Jingxin, deputy director of the China Institute for Reform & Development. In Guizhou and Anhui provinces, among the first to give long-term tenure, studies show that farmers have sharply increased spending on irrigation, are switching from low-profit crops such as rice and wheat to fruit orchards, and are making more money. A law passed Aug. 29 strengthens their land rights. If China's 135 million farm hectares were all effectively privatized, the market value would be $1 trillion. Such a sizable base of new assets could help millions of Chinese escape poverty.
By Dexter Roberts in Jubian, with Pete Engardio in New York
Before it's here, it's on the Bloomberg Terminal.
LEARN MORE