Small Loan, Big Dream
Compartamos' mission: To lift clients into the middle class
Each Tuesday, 20 women from the dust-choked hamlets near Etla, Mexico, meet around a wooden table under a pomelo tree at the home of Juana Ruiz and her husband, Constantino Lázaro. One by one, the women, who run businesses ranging from raising pigs to making tortillas, hand a few pesos to a loan officer from the microcredit outfit Compartamos. If a borrower can't pay, others in the group cover for her. The loans are repaid in 16 weeks; each woman then borrows $100 more or so.
This routine has been going on for nearly a decade in Etla, and it is typical of the way microcredit operates. Since few clients have property to post as collateral, microlenders often rely on peer pressure and personal contacts to make sure loans are repaid. By and large, it works. Agencies such as Compartamos boast low default rates and have helped millions of families from Bangladesh to Bolivia climb out of chronic poverty. For example, prior to 1993, the Lázaro family got by on the $2 a day Constantino earned as a carpenter. Then they got their first $25 loan, to buy an electric saw. Today, Constantino, 57, earns about $170 a month--a good sum for rural Mexico--making furniture. Four of their five children have graduated from high school. Such accomplishments were once unthinkable for the Lázaros.
Now, Mexico City's Compartamos is taking microcredit to the next level, planning to become a full-service lender with branches across Mexico. Last year, Compartamos won a government-banking license. Despite loans averaging just $270, Compartamos boasts a 16% return on its $40 million in assets. In July, it raised $10 million in a bond offering rated A+ by Standard & Poor's. It wants to expand from 112,000 clients to around 600,000 in a few years--but still cater mostly to the poor. "The only way to reach the masses is for us to be able to fund ourselves," says Carlos Labarthe, Compartamos co-executive director.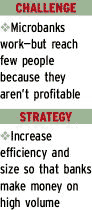 Compartamos and a handful of other agencies like it illustrate the new, businesslike thinking that could help erase a stigma that has long marked the village-banking movement. Sure, microbanks can boast many examples of success. But can they ever stand on their own financially and reach enough people to make a serious dent in poverty?
Making the leap to profitability isn't easy. Unlike normal banks, microlenders can't take deposits. And even though most charge seemingly high interest rates of 20% to 30% on an annualized basis, the cost of managing their tiny loans in remote places is enormous. "Only if you have more than 100,000 loans can you be profitable," says María Otero, president of Boston-based Accion International, a nonprofit that advises Compartamos and other microlenders.
To expand further, Compartamos has begun offering loans to help clients build midsize businesses. "I would like to buy more machines and hire some employees," says Constantino. With $6,000, he figures, he could buy better tools that would let him take on bigger jobs. But a regular bank loan would require collateral, and like most Mexicans, the Lázaros lack clear title to their house. Other Compartamos clients in Etla say they would expand their tiny poultry and pig operations if they could borrow more. So Compartamos has begun making loans of up to $1,000. In a few years, it wants to boost the limit to $5,000. This requires more rigorous credit analysis. For security, Compartamos plans to accept machines, appliances, and guarantees from salaried relatives.
Compartamos also may face pressure to go upmarket. If it can't meet the needs of its best clients, it may lose them someday to conventional banks, which in many developing nations are starting to target small entrepreneurs. "There is huge demand for small loans," says Lebarthe. If Compartamos succeeds in moving up, it could fulfill a longtime vision of the microcredit movement: to help once-destitute clients join the middle class.
By Pete Engardio in Etla, Mexico
Before it's here, it's on the Bloomberg Terminal.
LEARN MORE