"Hey, Dude! Cool Handheld"
The Hiptop is aimed at the youth market--yet it can teach buttoned-down rivals a few neat tricks
Designers of handheld devices for the new wave of speedier wireless-data networks have looked to mobile executives as their primary market. And why not? With handhelds such as the Handspring Treo 270 or BlackBerry 5810 (Tech & You, Aug. 26) costing upwards of $500, plus $50 or more for monthly service, their appeal is mostly limited to the expense-account set.
Danger, a Palo Alto (Calif.) startup, has a different idea. It designed the Hiptop handheld to appeal mainly to the 18-to-34 age group--people who have grown up with cell phones and instant messaging. In the process, Danger has come up with a product that can teach a few things to those making handhelds for the corporate set.
Danger's business plan is to license its design to others to manufacture and sell. The first incarnation of the Hiptop, called Sidekick, will be marketed by T-Mobile USA (formerly VoiceStream Wireless). It costs $199 after rebate, with activation. A monthly service plan, which has tentatively been priced at $39.99, includes unlimited e-mail and 200 weekday voice minutes. At such reasonable prices, Sidekick may have what it takes to make the wireless handheld a true mass-market product.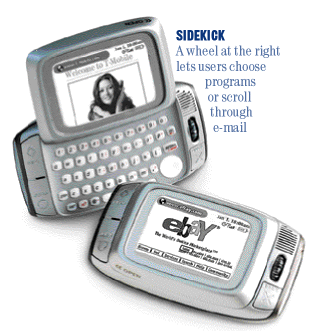 The Hiptop is an extraordinarily clever design. It's a little bulkier than most handhelds, especially in its thickness of a bit over an inch, but the heft is put to good use. Its key is a wheel that lets you choose among programs or scroll through e-mail messages or Web pages. It even changes color to signal incoming messages. All navigation is done with the wheel and three big buttons: One takes you back one screen, another gives you a menu of options for your current task, and the third offers the main menu of applications, which includes phone, instant messaging, e-mail, Web browsing, contacts, calendar, and an assortment of games.
The monochrome display boasts 50% higher resolution than a Palm and good readability in most lighting conditions. A color screen would have been nice, especially for viewing Web pages, but would have made it impossible to hit the $200 price target.
When you tap the upper-right corner of the display, the entire screen rotates 180 degrees to reveal a nifty little keyboard. The design allows the keyboard to be bigger, and thus easier to use, than those on the Treo or RIM BlackBerry. It also is the only micro-keyboard that I've seen with a row of dedicated number keys. I found I could bang out short e-mails or AOL instant messages with impressive speed.
E-mail requires the use of a T-Mobile account. If you want to get mail from an existing account, you will have to forward it to the Sidekick. That major limitation aside, the e-mail program is one of the best I've seen on a handheld. As you start to type an address, a list of possible names, pulled from your address book, pops up for you to choose from. You can even display some common attachments, including Microsoft Word and Adobe Acrobat. And Sidekick uses T-Mobile's new GPRS data network to deliver mail to the handheld as soon as it arrives at the server. (You can also manage your mail at a Web site.)
The address book and calendar functions work well, but they're limited by the inability to sync data with a PC. You can export data from most desktop information managers and upload it to a Web site, from which it is automatically copied to the Sidekick. Data on the Sidekick and the private Web page are kept in sync, but changes don't flow back to your PC.
The Sidekick is weakest when functioning as a phone. It's somewhat awkward to hold up to your face, handset style, but it does have a jack for a standard headset. Dialing using the address book is simple, but there's neither a dial pad nor a touch screen. Instead, you use an on-screen dial pad and select numbers with the scroll wheel, which I found clumsy to use.
The limitations of the phone aside, I think the Sidekick is an outstanding first effort from a new company. The makers of more corporate-oriented gadgets--even the best-of-breed Treo--ought to study it. And with a little software modification, specifically desktop-contact, calendar sync, and a way to handle corporate e-mail, the Hiptop could appeal to mobile executives, too.
By
Before it's here, it's on the Bloomberg Terminal.
LEARN MORE