Sean Murphy knows most people in America would have a hard time feeling sorry for him. He's 26, good-looking, and in great shape. In his best year, he brought home seven figures. But he's also a Wall Street stockbroker--and to many of his clients who got burned in the meltdown, "now I'm scum." Murphy says the phone calls from angry clients and a paycheck that has shrunk 80% are hardly the worst of it. One of his broker friends tried to kill himself this year. Another put himself in rehab. And he can't count the number of former hotshot colleagues who have decamped from luxurious Upper West Side bachelor pads to bunk with roommates in working-class Queens, toiling at $8-an-hour retail jobs. "Two years ago, these guys were incredible optimists, but they have less faith in the system now," says Bonnie Jacobson, a Manhattan psychologist whose practice has catered to Wall Street clients for three decades. "The chaos is making them feel very shaky."
Sure, many will say these once high-flying brokers--like the Wall Street bankers and analysts--are getting their comeuppance, especially after having served as chief seducers in one of the biggest market manias ever. What's more, Wall Street has always been riven by booms and busts. The Gilded Age ended in shootouts in the late 1880s. A rash of suicide jumps followed the Crash of 1929.
Are things really so different this time? Certainly, much of Wall Street is attempting to get back to business as usual. And if the market stabilizes, some of the worst angst will dissipate. But to many of the honest and upright who make the money machine run, the relentless shocks--September 11, the succession of corporate scandals, the market wipeout--make it feel as if the entire industry is having a nervous breakdown. In fact, Wall Street may never be the same. Consider that during the past 20 years, the financial sector ballooned from 1% to 7% of the entire economy. A surge in mergers and acquisitions, initial public offerings, and brokerage activity ensued. Deregulation brought down Chinese walls and helped to fuel growth. But it was in part based on an inflated corporate-earnings model that has now come crashing down. "The second Gilded Age is coming to an end," says Robert W. Justich, an institutional money manager with TimesSquare Capital Management Inc. "Wall Street brought in an army to securitize everything that moved, and now their mission has been exhausted."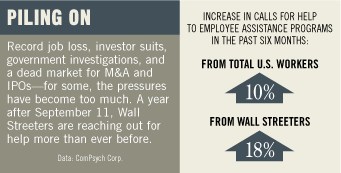 Indeed, huge structural adjustments are now afoot--not just with the layoffs that have reached their highest level in a quarter century but also in compensation and overall firm strategies on winning deals. Even Washington is talking about new curbs on the industry. In short, all fundamentals are pointing to the one thing that the Street hates most: uncertainty.
Meanwhile, the market has plummeted. The Standard & Poor's 500-stock index is off 40% from its 2000 peak. Initial public offerings are barely registering a pulse, raising a third less than the record $60 billion they did in 1999. Banking deals are nearly dead, with M&A activity down 82% since 2000. "The job is never going to be the same. The hours are going to be excruciating, and they're not going to be paid as well," says Debra Brown, an industry recruiter at Russell Reynolds Associates. "And all they read is how bad they are."
In the darkest corners, the pessimism is spreading as fast and deep as the exuberance once did. Whereas the Street's lifeblood used to be risk and innovation, now caution reigns. Moreover, winning back trust--especially with a public that is dubious about the industry's solutions to its conflicts of interest--make rank-and-filers feel as if they are waging an impossible campaign. "There are thousands of people who are trying to make a good, honest living, biting and scratching all day to do best for investors," says Robert H. McCooey Jr., president of NYSE member firm Griswold Co. "They've put us all on trial for what a few individuals have done."
Add to the psyche-out the still-potent fear of physical harm from more terrorist attacks in the city's 200-year-old financial hub. Worries New York Stock Exchange Chairman Richard A. Grasso: "People are genuinely asking the question, `Do we want to go back?"' Subway lines near Ground Zero are still out of commission, chunks of the district remain ghostly, and the workday trek includes elbowing past throngs of tourists, vendors hawking tasteless memorabilia, and the gaping, concrete canyon where the towers once stood.
One measure of the damage: Wall Streeters' calls to employer-provided counselors are nearly double the national average, according to the country's largest employee assistance provider, Chicago-based ComPsych Corp. Financial fear, marital strife, drug abuse--all are up over last year's levels. That's not surprising considering that even before the crash, young Wall Street stockbrokers had depression rates four times the national average, according to Alden Cass, an expert on clinical psychology who has extensively studied the brokers. Says veteran Wall Street compensation expert Alan Johnson: "This is the worst morale I've seen on Wall Street--ever."
Even before the terrorist attacks, the pressure was mounting. One bond trader, a client of Jacobson's, fled over the Brooklyn Bridge on September 11 but remembers not feeling relieved to have survived. Instead, all he could think of, he recalls now, was chucking his wallet, along with every shred of identification, into the East River. The grinding demands of the Street had been gnawing at him for months. Yet his wife was loath to give up the private club, the private school, and the grand house. He felt so hopeless that vanishing from sight that day--just like the people trapped in the World Trade Center--actually felt like a solution.
Since then, work life for many Wall Streeters has only gotten more difficult. Seasoned colleagues who once raked in more than $1 million a year are jobless. Paychecks for investment bankers have shriveled two thirds in some cases, while some brokers are making a fifth of what they were two years ago. Bonuses are ancient history. Whoever is left is struggling with "firing fatigue," "survivor guilt," and the new stigma resulting from the fact that everyone--the Securities & Exchange Commission, the NASD, the attorneys general---is hoping to ferret out wrongdoers. Then there's the 1,000 or so class actions looking for fat settlements for disgruntled investors.
What's worse, few firms are doing enough to bolster morale. Both the pressure-cooker climate and searing accusations have prompted exoduses of top-level strategists, analysts, and bankers in search of more soulful work. "The level of creative destruction at big firms right now is unprecedented," says Michael C. Litt, formerly a managing director at Morgan Stanley. And some sell-siders, fed up with conflicts of interest, are flocking to the buy side. Former J.P. Morgan Chase & Co. chief investment strategist Doug Cliggott, for example, bailed in February to join Swedish boutique asset-management firm Brummer & Partners. "When times are good--and they were exceptionally good for a decade--you lose a culture in terms of teamwork and healthy competition," says Robert B. Albertson, ex-head of banking research at Goldman, Sachs & Co., who quit in 1999 to start a hedge fund. "It got to a point where everybody wound up working only for the money."
That puts Wall Street firms in the difficult position of somehow recapturing their esprit de corps at a time when many of their employees are suffering not just financially but also emotionally. While some managing directors of large banks have hired psychologists, it has been mostly to help brokers and financial advisers deal with disillusioned clients who have lost their savings in the markets. Experts say those shrinks would better serve their own employees. That's because this time around, Wall Street's rebound is not just dependent on a recovery in the stock market but also in the morale of the rank and file.
By Mara Der Hovanesian and Michelle Conlin in New York
Before it's here, it's on the Bloomberg Terminal.
LEARN MORE