Finance Software: The Updating Game
Quicken and Money 2003 have slick new features for investors, but they require accurate, sometimes elusive data--and more patience
Much like new cars, the two leading personal-finance software titles appear late each summer with new models. This being 2002, and logic being irrelevant to marketing, that means Intuit (INTU ) has just introduced its Quicken 2003 and Microsoft (MSFT ) its Money 2003. Often, the new features are hardly notable and soon forgotten.
Investors, however, may be tempted by the latest Quicken and Money programs (table). Category leader Intuit has struck a deal to create its own Quicken Brokerage service through Muriel Siebert & Co. and has given it a privileged place within the software. Microsoft, for its part, has added the capability to track options contracts, a tricky set of maneuvers not yet tried by Quicken. Its users have to use a complicated "work-around" solution if they hope to track options.
Three years back, in my last review of Quicken and Money, I concluded that most investors should avoid these programs. Although they are relatively inexpensive in dollars, they can suck up way too much time. Getting them to answer your basic questions correctly--How is my portfolio doing? Is my asset allocation out of whack?--means paying strict attention to seeing that the software accurately mirrors your mutual funds' actual portfolio holdings. Worse, you also have to enter most details of every trade you make into the program just right. Automated data entry and broker downloads have cut these chores some. The question now: Has Quicken or Money evolved enough to make one of them worth your while?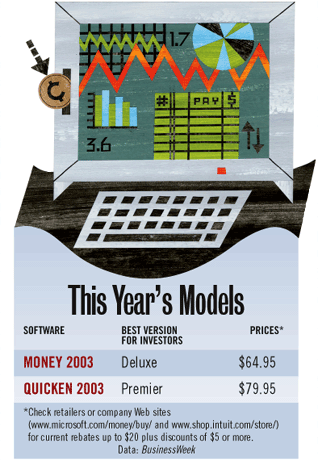 To find out, I toured the latest models. In many ways, they are similar and, like rival Sunbelt cities, have sprawled boundlessly, stretching from "downtowns" of household budgeting and check-writing to countless "suburbs," including home-value tracking, capital-gains estimating, college-tuition modeling, asset allocation, and portfolio-performance reporting. So I focused just on those parts aimed at investors.
Microsoft's new wizards for options investors--that is, direct option contracts on stocks or indexes, not employee stock options--worked neatly to set up and track puts and calls. And from the peek that Intuit offered me, Quicken's new brokerage service seems to do an admirable job of modeling the tax impact of any securities sale before a trade. Quicken users need not choose to use its brokerage service, but those who do figure to get smoother data downloads, plus such extras as real-time quotes and free research reports from Standard & Poor's (MHP ). Others can keep downloading their trading and account data from most any brokerage firm.
Despite these changes, I still wonder how valuable this software is for most people. One reason is that for many investors, sizable chunks of their portfolios are tied up in 401(k) and other retirement accounts. The seemingly simple task of getting enough details of a 401(k) into the software can be daunting. While both Quicken and Money track any investment that bears a ticker symbol with assurance, keeping up with some employer-sponsored retirement account investments--many of which don't come with ticker symbols--is dicier. After years of sporadic fiddling, I have yet to get either program to render a good accounting of my 401(k)'s performance. This means that seeing my overall portfolio's performance or asset allocation is impossible without resorting to pencil and paper and settling ultimately for a pretty good guesstimate.
And that's the main foe that these programs can't lick: If the data aren't right, you can't confidently draw conclusions based on the data. So, if Quicken or Money tempt you with their claims of helping you handle your money faster and better, I have some advice: First, cut your expectations for what the software will tell you by 50%. Next, double the amount of time you figure it'll take to get the program set up and working for you.
Finally, start small. Pick one or two tasks, such as portfolio rebalancing or estimating capital gains, for which you need help. If you get the answers you seek without having to spend too many nice Sunday afternoons at your computer, terrific. If, instead, you find you're putting in hours and hours toward an end that starts to seem like a mirage, stop there. You're right.
Before it's here, it's on the Bloomberg Terminal.
LEARN MORE