General Motors Corp. designer Anne Asensio has "issues"--a whole drawer full of them. The French designer departed Renault two years ago and now heads GM's interior design group. Her issues drawer is stuffed with examples of what needs sprucing up inside GM vehicles. She pulls out a bulging packet thick with photographs of flaws in the seats of the new Hummer H2 sport-utility vehicle. Some defects are as minor as uneven stitching, but that and everything else needs to be near-perfect if GM wants its interiors to be on par with those of its Japanese and German competitors. There's a gap today, concedes Asensio, but "we have an action plan to fix it."
Asensio has been charged by Robert A. Lutz, GM's vice-chairman and design czar, with renovating the interiors of the company's existing and future models. And GM is only the latest Detroit auto maker to focus on improving what's inside its cars; the other two domestic carmakers have already assigned top stylists to interior design. Says James N. Hall, vice-president for automotive consultant AutoPacific Inc.: "The Big Three are making up for lost ground."

It's a matter of survival. Consumer surveys generally rank foreign carmakers higher than domestic companies on interior quality. With foreign competition setting the benchmarks, the Big Three can't afford to annoy consumers with poorly organized dashboards, cheesy upholstery, or flimsy knobs. "They see their market share slipping and know what they have to do," says John Phillips, director of advanced product development at auto-interiors maker Lear Corp.
In a sense, interiors are the final frontier. After several decades of lagging overseas competitors, Detroit has made strides on most other fronts. U.S. assembly plants are almost as productive as their Japanese counterparts. As for vehicle quality, GM and DaimlerChrysler's Chrysler unit actually exceed the Europeans and have nearly caught up with Toyota and Honda.
Slide inside the American models, though, and it's clear that Detroit has work to do. European carmakers such as Volkswagen's Audi Div. and BMW have much more handsome instrument panels, better-made seats, and nicer-feeling switches and knobs. Japan's auto makers have also developed a knack for creating pleasing interiors. "My Lexus LS 430 is gorgeous inside," says Bill Gilson, a Fort Worth entrepreneur who just bought his 20th Lexus in a decade. American cars "just don't look or feel as elegant." Admits GM's Lutz: "Interiors have been less of a priority among the Big Three."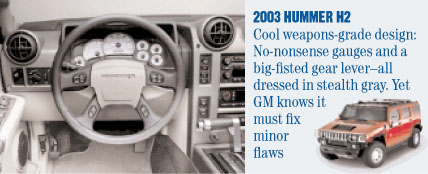 As recently as the late 1990s, top design talent was still sent to exterior styling. An assignment to interiors amounted to the auto-design equivalent of exile to Siberia. Auto makers even considered outsourcing most interior design work to suppliers. Both notions were nonsense, says Ford Motor Co. design chief J Mays: "The interior of the vehicle is where you spend most of your time."
Ford was the first to launch a big push to fix its interiors. In 1997, it hired Mays, the former Audi designer responsible for the New Beetle. "Interior design is one area where I saw we could have a true competitive edge, especially with our domestic competitors," he says. The first U.S. results at Ford can be seen in the revised Lincoln Navigator, introduced this past spring. Accented in brushed nickel, the SUV's interior is one of the sleekest, most elegant, and well-regarded designs that Ford has achieved in decades.
DaimlerChrysler started its campaign three years ago when it tapped one-time BMW designer Steve Sowinski to do the interiors of its forthcoming Chrysler Pacifica--a long, luxurious wagon that seats six. His goal: "To design the best interior we've ever done." Sowinski sketched an instrument panel that arches over the steering wheel, around the stereo, and down to the center console. The wraparound cockpit is trimmed with chrome, while dashboard gauges feature sharp LED lights set against a dark screen rather than the black plastic plates with painted needles that Chrysler previously used.
At GM, Lutz says the company is spending considerably more time and money on interior amenities. Lutz, who led Chrysler's design resurgence before coming to GM late last year, aims to match the Europeans on quality while also infusing more "emotion" into the styling. "We want the `Wow, isn't it beautiful' effect," he explains. Meanwhile, Asensio and her team are renovating existing interiors as quickly as possible. The first cars to receive attention will be the H2, the Cadillac CTS sedan, and the Buick Rendezvous SUV, all of which have been criticized for their shoddy-looking dashboards.
There is, of course, a catch. The luxe feel costs money, says Mara Ignatius, Lear's manager of craftsmanship. "This is a piece of sculpture," she says, placing her hand on a BMW Z3 seat at Lear's studio. With top-grade leather, firm foam inside, and fully concealed hardware, the BMW seat looks and feels sumptuous. Right next to it is a seat from a Chevy Corvette. It's sporty, but the leather looks wrinkled, and a few pieces of metal frame peek out from under the skin. The 'Vette seats cost half what the BMW seat does. It shows.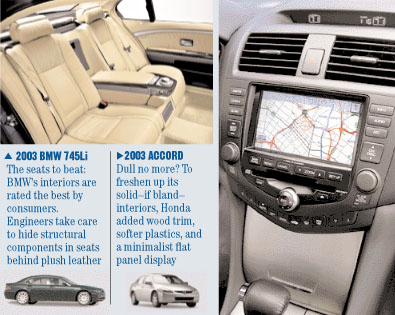 The bad news for Detroit is that its competitors keep raising the bar. Honda's latest restyling is visible in its newly introduced Accord. Designers are striving to redefine luxury by combining the old-world charm of European interiors with the latest high-tech glitz from Japan. Long known for quality-made, if dull, interiors, Honda set out to spruce them up for the 2003 model year. For authenticity's sake, chief engineer Charles Baker modeled the synthetic wood accenting the Accord's console and door on a type of poplar native to Germany's Rhine Valley. Honda used a new molding process to make the dashboard plastic softer to the touch. Baker's crew also replaced the flat plastic gauges and needles on the instrument panel with Lexus-like futuristic LED lighting.
European car execs seem almost amused that Detroit took so long to wake up to the mystique--and value--of interior design. "GM has discovered that upgraded interiors sell cars," says BMW Chairman Helmut Panke. "For us, the interior has always been a priority of design." With foreign rivals still leading the way in craftsmanship and style, the Big Three may have issues stuffing their file cabinets for years to come.
By David Welch, with Kathleen Kerwin in Detroit
Before it's here, it's on the Bloomberg Terminal.
LEARN MORE