Wireless E-Mail: A Work-in-Progress
Three new devices combine voice phone, e-mail, and a PDA. They all need fine-tuning
Wireless phone companies are busy rolling out new, faster data networks that they hope will spur their slumping industry. And hardware makers, who could use a shot of growth themselves, are pumping out products for these networks that combine a voice phone, a personal digital assistant, and e-mail into a package that can easily be slipped into a pocket or purse. Both the devices and the networks have a ways to go, but the promise is tremendous.
I took a look at three devices--the BlackBerry 5810 from Research in Motion (RIMM ), the Handspring Treo 270, and the Pocket PC Phone Edition from T-Mobile (DT ) (formerly VoiceStream Wireless)--all of which run on GSM networks. This is the dominant technology in most of the world, and it's gaining fast in North America. It offers two flavors of data communications. The newer technology, called GPRS, promises a top transmission speed of 64 kilobits per second and, theoretically, an always-on connection to the Internet that eliminates the need to dial in every time you want to fetch data.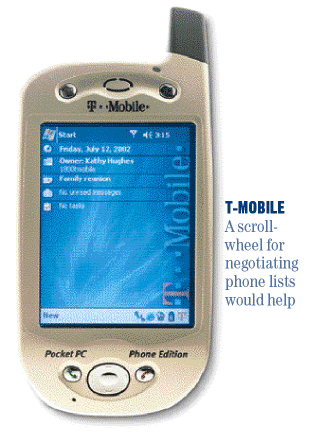 The T-Mobile handheld ($549 with activation) is, along with the virtually identical XDA sold by wireless carrier mmO2 in Europe, the first product to use Microsoft's new Pocket PC phone software. It does a good job of integrating the phone with the device's other functions. Not only can you easily call any number in your contact list, but you can initiate a call by clicking on a phone number in an e-mail message.
If you have a GPRS data account ($19.95 to $59.95 per month in addition to a voice account), you can use the Pocket PC e-mail program to connect wirelessly to any standard Internet e-mail account. It can handle Microsoft Word and other common attachment types. To get my corporate e-mail, I used Infowave's Symmetry Pro, which delivers Microsoft Exchange mail from your desktop. But it costs $19.95 a month, on top of the other charges.
I found, however, that GPRS fell well short of its promise. The Pocket PC had to establish a network connection each time it needed to send or receive data, a process that took about as long as dialing a call and logging in. It's hard to measure network speed in e-mail transfers, but it was considerably slower than a wired dial-up connection. And there were times when the network was simply unavailable, even in Washington, D.C., where voice service is normally good.
The hardware could also stand some refinement. I now believe that a keyboard, however small, is a requirement for e-mail. I found that even the choice of a couple of styles of handwriting input and an on-screen keyboard are no substitute for real keys. In phone mode, the Pocket PC is not well-designed for one-handed operation. A scroll-wheel that allows you to move easily through lists would be a big improvement.
The BlackBerry 5810 ($499 from T-Mobile plus $39.99 per month for e-mail with a voice plan) looks and functions exactly like the older BlackBerry 957 and 857, which run on paging networks. All GSM devices have voice capability, but the BlackBerry has a clunky interface and can only be used with a headset, severely capping its usefulness. (This and a limitation that requires separate versions for use in North America and the rest of the world will be fixed in a model due by yearend.) The 5810 has much worse network coverage and much shorter battery life, and because mail comes in automatically while the BlackBerry is in your pocket or purse, you never notice the higher data speed. The BlackBerry is a great way to get corporate e-mail on a wireless device, but I'd stick with the older versions.
The Treo 270 ($499 with service) adds a crisp, color screen and lit keys to the Treo 180 (Tech & You, Apr. 29). Although it uses older dial-up wireless data technology, it was more reliable than GPRS and didn't seem that much slower. Treo Mail service for getting corporate e-mail costs $99.99 per year plus air time, and it requires an Internet access account. The Treo offers the best melding of PDA, phone, and mail functions and it boasts the easiest-to-use design.
Right now, all of these devices are better than the networks they run on. But those nets are getting better, and there are versions in the works for the new Verizon Wireless (VZ ) and Sprint PCS (FON ) data networks. Within six months or so, wireless e-mail may really be ready for the business mainstream.
By
Before it's here, it's on the Bloomberg Terminal.
LEARN MORE