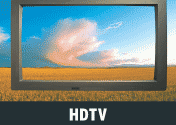 Was there ever a high-tech policy debacle like high-definition TV? When it works, the technology delivers near-perfect digital pictures, stunning six-channel sound, and a host of interactive features. But the warring interests that want a piece of the new market--or see it as a threat--have turned America's digital makeover and its 2006 deadline into a joke.
Local TV stations say HDTV broadcast equipment is expensive, content is limited, and the technology doesn't work well enough to reach most homes without an extra antenna or cable or satellite gear. Hollywood studios argue it works too well, that the pristine digital content will prove irresistible to pirates. TV and set-top box makers, meanwhile, say the market is already being garroted by too many costly and ill-conceived copy-protection standards. "If I can't figure [all this] out, how can the average person?" laments Chris Cudina, senior marketing manager at Samsung Electronics Co.'s digital set-top box division.
Consumers seem attracted to HDTV sets as an enhancement to their DVD-equipped home theater systems. And it's true: DVDs look great, but real high-definition should look even better. Will we ever get to see it? Do consumers care if the answer is no? Either way, the 2006 deadline is bound to get lost in all the noise.
By Cliff Edwards
Before it's here, it's on the Bloomberg Terminal.
LEARN MORE