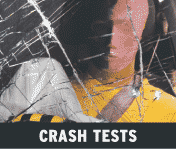 My brother asks me: "I want the safest car I can get. What should I buy?" I resist the urge to recommend a tank. Short of that, though, the answer starts to get complicated.
Most safety-minded consumers rely on the crash-test results from the National Highway Traffic Safety Administration (www.nhtsa.gov). Pick any car or truck with a five-star rating, and you're fine, right? Not exactly. There's a lot these crash tests don't tell you--starting with what happens in the event of a 90-degree side-impact collision.
Safety advocates are pushing NHTSA to run such tests, which are standard in Europe and Japan. Other uncertainties abound, however. NHTSA's head-on crash tests show only how a vehicle would fare if it hit another vehicle of similar size. That doesn't tell you what happens when a large vehicle hits a smaller one--the occupants in the small car are far more likely to be killed. Indeed, the weight of the vehicle is the single most important factor in determining occupant safety.
That helps explain the popularity of big trucks and sport-utility vehicles. But bigger isn't always better. The higher ground clearance that trucks and SUVs need for off-road use gives them a higher center of gravity, making them more likely to roll over if the driver runs off the road.
So what did I advise my brother? Forget about that big pickup truck, and look instead at large cars, vans, or the new breed of "crossover" SUVs: They're less prone to roll over because they're built on a car chassis. Load up on all the safety and handling options available, including side air bags, antilock brakes, and traction or stability control. And of course, fasten your seat belt.
By Kathleen Kerwin
Before it's here, it's on the Bloomberg Terminal.
LEARN MORE