Muscle-car fans in the U.S. and Japan are eagerly awaiting the official debut of Nissan's (NSANY ) 350Z sports car on July 30, marking the revival of the revered Z auto bloodline. One car buff who's psyched about delivery of a pre-ordered Z -- No. 13 off the production line in Oppama, Japan -- is 92-year-old Yutaka Katayama, a.k.a. "Father of the Z" in industry circles. Katayama ran Nissan's U.S. sales operations in the 1970s and is widely credited with bringing the first Z to life by hassling headquarters in Tokyo for an affordable sports car.
Nowadays, to his legions of supporters at Z fan clubs around the globe, the cane-wielding Katayama is affectionately known as "Mr. K." He's credited with almost single-handedly overseeing the buildup of Nissan's U.S. business under the now defunct Datsun brand and helping make the Z line one of the best-selling car series ever. The long-snouted original 240Z, which debuted in 1970, offered an impressive in-line six-cylinder engine for a fraction of the price of other similarly equipped models. That helped establish Datsun as a major player in the U.S. before that brand name's demise in 1980.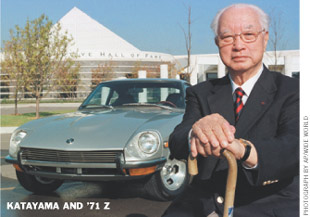 Despite his accomplishments, the maverick Mr. K was treated as a black sheep inside the increasingly bureaucratic and hidebound company after his return from the U.S. in 1977. He retired soon after. But when France's Renault took a controlling stake in a near-bankrupt Nissan in 1999, Katayama was welcomed back into the fold.
Now, as a senior adviser to the company's sports-racing unit, Mr. K has the ear of Nissan President and CEO Carlos Ghosn, another longtime Z fan. Katayama spoke recently about the line and its latest incarnation, the 350Z, with BusinessWeek Tokyo Correspondent Chester Dawson. Excerpts of the interview follow. Note: This is an extended, online-only version of the interview that appears in the July 22, 2002, issue of BusinessWeek.
Q: As the man who nurtured the original 240Z, what do you think of the new 350Z?
A: In all honesty, I wasn't thrilled with the initial prototype. But once it was refined, I took a shine to it. The early version seemed too rotund and heavy. A sports car should look as if it's light on its feet. It doesn't matter how nicely appointed the interior is -- a sports car has got to look cool on the outside.
My first impression was that early versions of the car were too bureaucratic, that too many design compromises were made for safety-related reasons. But after a few revisions and some back-and-forth with the designers, the production model came out very nicely.
Q: What's the biggest difference between the old 240Z and the new 350Z?
A: The old Z's were softer, but the newest Z is harder and more animal-like. The delicate nature of the older Z's has been replaced with a rougher, masculine edge, but there are a lot of creature comforts inside. It used to be that sports-car buffs had to trade comfort for performance, but those sacrifices aren't required any longer. The new Z has a good physical fit that should appeal to a broader range of consumers than traditional sports cars.
Q: How did you get the idea to sell a sports car like the Z in the U.S. in the first place?
A: When I was dispatched to the U.S., I saw a lot of European sports cars sitting around on lots [in Southern California]. It was obvious there was demand for sports cars in America, but foreign models had poor after-service and a limited parts supply. Cars like the [British-made] Triumph and Austin[-Healey] would have sold at a more affordable price and with better after-service. Over the course of the 1960 to 1970, the image of "made in Japan" began to shift from poor quality to good quality for things like electronic goods. So the postwar generation was our target group.
Q: In Japan, the Z line has always been sold -- even up to the present day -- under the name "Fairlady Z," which was originally derived from the musical My Fair Lady. Why not in the U.S., and how did the line come to be called "Z" cars?
A: The term Fairlady isn't masculine enough for the U.S. Americans like to associate their sports cars with wild animals like tigers or pumas. So I knew cars tagged Fairlady would be a hard sell. In fact, when the first batch of 240Zs arrived in the U.S. from Japan, they came with the FairladyZ badge still attached. So I took it upon myself to pry them off and replace them before any of the cars reached showrooms.
Rather than labor under that name, I figured it was better to give them numerical badges reflecting the engine capacity [so the 240Z represents a 2.4-liter engine]. The letter Z came from a random code assigned by engineers when the blueprints for the car were being drawn up. Nobody ever figured that would stick at the time, but I liked it.
Z evokes powerful words like zenith. Also, Admiral Heihachiro Togo [a Japanese naval hero who lived from 1846 to 1934] used the Z symbol on flags as a motivational tool to inspire his sailors. I always liked that story.
Q: What was your first encounter with Carlos Ghosn like in 1999, soon after he was dispatched to Nissan by controlling shareholder Renault to serve as COO?
A: My purpose in meeting him was twofold. First, I asked him to revive the Datsun brand name to reinvigorate Nissan's U.S. sales. Second, I pleaded with him to bring back the Z to breathe new life into Nissan. Ghosn said his first mission was rebuilding the Nissan brand name, not Datsun.
When I broached the subject of the Z, his face lit up, and his eyes shone brightly. He told me, "Yes, we'll do it." Well, I couldn't have been happier with his response. But I warned him to avoid the temptation to make it a luxury vehicle and keep it affordable, around $25,000.
Four years earlier, I had made a similar appeal to then-President Yoshikazu Hanawa. That, in fact, was my first visit to the headquarters since I broke off relations following the demise of the Datsun brand name and the collapse of Z sales. Hanawa said no to a new Z when I asked him, but I sensed he really wanted say otherwise. He actually allowed some early work to be done on a successor model. But in the end, there just wasn't enough money to finance the project, and the Z line was terminated.
Q: Of all the Z cars, which is the model you like best -- and least?
A: My favorite Z is the first [240Z, which debuted in 1969]. I also liked the 260Z [1975 model year] and 280ZX [1979 model year]. But I was never very fond of the 300ZX [1984 model year]. The 300ZX was too polished -- something like a European high-performance super sports car. It was a luxury car with a luxury price. That didn't suit me.
The 240Z was a simple car. It had decent maneuverability but was affordable. Of course, it didn't have to meet today's overcautious safety and environmental standards, either. A sports car should drive like a motorcycle. You've got to strip it down to the basics. For me, it'd be better if cars weren't so safe. Most cars on the road today drive like cocoons on wheels.
Q: Are there some other, non-Nissan cars that you're a fan of?
A: I always liked the [Mazda] Miata. I drove a Miata for two years during the 1980s. Loved the [convertible] soft top. Another favorite is [Toyota's RAV4] sport-utility vehicle.
Q: What do you drive now?
A: I have a new 350Z on order. But right now, I drive a [Nissan] Maxima sedan and a brand new March subcompact. My last Z was a 280ZX. I last drove it in 1983. That's when I gave up on it. The 300ZX was a tad too pricey for me.
Before it's here, it's on the Bloomberg Terminal.
LEARN MORE