The Most Important Thing of All
Losing a child, as I did four years ago, inspires this heartfelt advice: Good parenting can't wait until you make your sales quota
By Michelle Nichols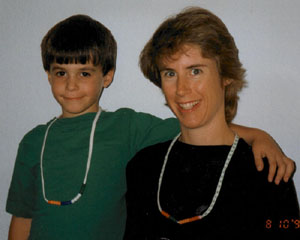 Savvy Selling columnist Michelle Nichols with her son, Mark, who was claimed by brain cancer July 20, 1998.
It's tough being a working parent -- but when you're in sales, it's even tougher. After you've met your quota for the day, you can feel torn between making one more sales call and going home to your children. If you're a parent, learn to sell faster -- and then spend the time you save with your kids.
I write this because I am the parent of a child who didn't live to grow up. Four years ago, my son, Mark, died suddenly when he was only 8½ years old. At first, the doctors thought it was just a case of the flu. But 11 days later, he died of brain cancer. Mark was our firstborn. He was very bright, funny, and kind, but he didn't live to start the fourth grade.
I couldn't live with myself today if I hadn't spent the time with him that I did. Did I give up a lot of evening networking meetings? Yes. Did I miss a lot of weekend relationship-building functions? Yes. Did I skimp on getting to know my colleagues at after-work dinners? Yes.
Would I do it the same way again? Yes!
At Mark's funeral, my husband and I were able to face the rows and rows of mourners and say with absolute honestly and sincerity that we had no regrets about the things we gave up to have that precious family time.
At the circus, we applaud the juggler who can keep six objects in the air at the same time. Then we go home and try to juggle our multiple responsibilities -- work, house, organizations, religious, social, and family. Even if you get them perfectly juggled, if only for a moment, no one applauds. Then something changes -- and suddenly, everything comes crashing down.
Work is important -- it provides for your whole family. But your children need your time and attention, too. Trying to balance all those priorities while keeping food on the table is no easy feat. Here are a few guidelines for all working parents.
Carpe diem. Seize the day, or better yet, the moment, to have a bit of fun. Children take a lot of energy and effort, two things that are in short supply at the end of a busy day. Can both of you get up early and spend time together before your work day begins? Or how about after dinner, when your second wind kicks in? The time you spend is never wasted, even if your child won't appreciate it until years later.
Don't block the sun. By that I mean don't fixate on the negative. When my 10-year-old daughter stayed in her school's spelling bee until the 5th round, the first words from the teacher assigned to comfort her were when she was eliminated were, "You forgot the i-before-e!" What a pity she didn't say, "Good try. I'm so proud of you." As Zig Ziglar, the motivational speaker has said: "Some people look for fault like there was a reward for it."
Time vs. money. Remember, all dollar bills look the same, but every moment is unique. If you borrow a buck, you can pay it back with a different dollar. When you stay late at the office to chat with your co-workers, you can't replace that time with your family. That's what gives family time a value beyond anything that can be calculated in mere dollars and cents.
Show up. Nothing makes my daughter smile more than when I volunteer to help out with her swim team's events. No, it's not my favorite way to spend time with her, but it makes her feel special. And that's enough.
When Mark was eight, I sent my husband down to register him for Little League. My husband surprised us all by signing on as the team coach. They spent a lot of father-son time that season -- on the field, in the batting cage, and just sitting around talking about baseball. Mark died just a few months after that season ended and as Master Card ads would say, those good memories are priceless.
Share your business insights. When Mark was five years old, we started a business selling lap-counting necklaces to runners at our local YMCA. We advertised, took orders, and treated our customers well. Teach your children the fundamentals of your business or industry. Later, help them start their own small businesses.
In the movie City Slickers, Jack Palance's character, Curly, encourages the new cowboys to focus on "the one thing." Billy Crystal, as Mitch Robbins, discovers that the one thing for him is family. While your spouse is important, he or she is already an adult. Your kids -- be they biological, adopted, stepchildren, half-siblings, or whatever -- are in the frenzied growing-up process right now. They need your time and attention today. So sell faster. Then go home and hug your children. Happy Selling!
Michelle Nichols is a Sales consultant, trainer, and speaker based in Houston. She welcomes your questions and comments and can be reached at michelle.nichols@savvyselling.biz
Before it's here, it's on the Bloomberg Terminal.
LEARN MORE