Zippy Transport for City and Surf
There are all kinds of ways to travel. The Segway Human Transporter, designed by Dean Kamen, is one of the most hyped prototype products of our era. The device combines breakthroughs in self-balancing gyroscopes and electronics to create a battery-powered urban person-mover. Lean forward, and it moves forward. Lean back, and it brakes. The interface on its LCD screen is a friendly human face. The battery packs are recyclable. The 36-kilogram Segway will be on sale in late 2002.
Already available in the market for much less is the electric-powered Xootr Scooter. Lunar Design came up with a 9-kg personal-transportation vehicle with a low, slim deck that houses the batteries and a small, rear-mounted motor. Aimed at the same urban/suburban commuting population as the Segway, the Xootr folds easily and can stow under bus or train seats. Recharges in 75 minutes. It can accelerate from 0 to 19 kilometers per hour in 5 seconds. Wow!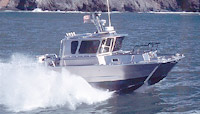 J3200 CATAMARAN
DESIGNER: Moose Boats
A fast, shallow-draft, rugged boat. $394,000
PHOTO ESSAY: 2002 Best Product Designs
The J3200 Catamaran is a complete redesign of 9-meter pleasure boats. It's a fast yet stable and tough-looking boat that doesn't use traditional materials. This is the first time aluminum has been used in this class of boat. Turbo-diesel engines drive water jets. No propellers.
Before it's here, it's on the Bloomberg Terminal.
LEARN MORE