Winners 2002
The best product designs of the year
Every business cycle weeds out the old, breaks down the established order, and opens the way for innovation. The Industrial Design Excellence Awards (IDEA) for 2002 shows that this most recent cycle is no different. Given by the Industrial Designers Society of America and sponsored by BusinessWeek, the IDEA winners this year reflect major changes on the design scene. The results? A surprising number of Asian companies are emerging as design innovators. The hierarchy of the design industry is being shaken as smaller firms muscle their way into the top tier. Perhaps of most significance, the aesthetic sensibility of American culture is shifting.
Many of the award-winning products this year appear to be reflecting a more sober, post-September 11, security-conscious society. The rounded, biomorphic, soft shapes and translucent plastic see-through openness that defined so many products in the 1990s is out. What's in is a new modernism of sharp edges, tight corners, and straight lines. Colors are darker, packaging more opaque. If '90s product design reflected a female organic sensibility, today's is distinctly harder, edgier, more military, more male. Awards went to the black, angular IBM Net Vista flat-panel PC that is suspended in the air by an articulated arm; black and white body armor for Lacrosse; and a mouse that is metallic and all edges. The tougher sensibility is evident even in boat styling. One winner is a jet-powered, aluminum-hulled catamaran. Resembling a Marine Corps landing craft, it's the Hummer of pleasure boats. The military itself is paying more attention to design. The award-winning, battle-hardened Command Console is a great example.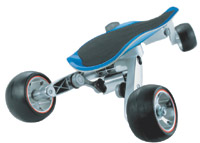 STREETCARVER
DESIGNER: BMW
New steering, suspension, and axle designs let this skateboard ride like a surboard or snowboard. $499
PHOTO ESSAY: 2002 Best Product Designs
Just as people flock to movies in stressful times, they also appear hungry for consumer products to make their lives not only easier but also more fun. An exceptional number of consumer products won awards in 2002. Some, like the jazzy Ford Thunderbird, harken back to golden years. Others--such as the BMW-designed Streetcarver skateboard and the Bearhug snowshoe binding by Helix Design--reinvent familiar products for the better. This is also true of Dilbert's Ultimate Cubicle, Palo Alto (Calif.)-based IDEO's playful thinking about how to make office cubicles more livable.
Awards went to super-high-tech consumer products as well. Apple Computer's iPod MP3 music player is the first to hold 1,000 songs, have 5 gigabytes of data, and weigh 184 grams. Hewlett-Packard (HWP ), with help from New York City-based Smart Design, made digital photography easier by junking the PC. Its award-winning Photosmart 100 printer works directly with digital cameras.
Then there's the Spyfish, a miniature remote-controlled submarine for exploring reefs that won an IDEA. So did the Segway Human Transporter. A radical low-tech breakthrough is the OXO measuring cup--you measure by looking into it.
There were lots of surprises this year. Samsung tied Apple (AAPL ) for most prizes won (five). The South Korean company is becoming a design powerhouse on the world scene. IDEO continued to dominate the industry, but Smart Design came on strong. Boston-based Design Continuum snagged the first Catalyst Award for the greatest bottom-line impact of an IDEA winner.
A surprising number of architects won awards. Rem Koolhaas teamed up with IDEO to win two for Prada, while David Rockwell won two for his hotels.
In 2002, there were 1,265 entries from around the world, including many from Korea, Japan, Malaysia, Turkey, Germany, Switzerland, Hong Kong, Britain, France, the Netherlands, Taiwan, Denmark, Ireland, Northern Ireland, and Canada. The 174 winners took in 41 golds, 60 silvers, and 73 bronzes.
Check out the following pages for more great designs.
By Bruce Nussbaum in New York
Before it's here, it's on the Bloomberg Terminal.
LEARN MORE