Technology isn't only confined to computers. Prada has decided that high tech can enhance the high-end customer experience. The Prada Staff Device is a portable scanner that personal dressers carry with them as they shop with customers. It gives the staff access to data on shoppers' clothes preferences and sizes and shows what's in stock. The device also controls in-store screens showing videos of models wearing clothes the customer might want. The device is light, simple to use, and easy to read. Linked to a shared software base with radio frequency (RF) tags on clothes and Customer Cards, it creates a new shopping experience for Prada.
SenseWear Pro Armband collects clinically accurate data on everyday sleep quality, caloric burn, and activity levels. This helps doctors and researchers deal with patient insomnia, obesity, and weight gain. BodyMedia Inc. repacked several sensors into one easy-to-wear armband.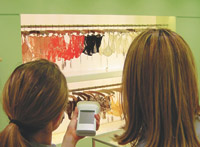 PRADA STAFF DEVICE
DESIGNER: IDEO, UK; OMA/AMO, the Netherlands; Prada, Italy
Accesses customer preferences, sizes, what's in stock.
PHOTO ESSAY: 2002 Best Product Designs
New Holland designed a more efficient, comfortable combine that can cut a broad, 42-foot swath of wheat. Smart ergonomics helps farmers who spend long hours in the cab during the harvest. A global positioning system and monitors keep the combine moving straight. A deck behind the seat provides a perch for the dog--and for food, water, and clothing.
Before it's here, it's on the Bloomberg Terminal.
LEARN MORE