These five winners for 2002 and a total of 17 since 1998 have made Samsung a global power in product design. Samsung's 15- and 17-inch LCD flat-panel TV monitor has a detachable stand and can be mounted on a wall or hung from a ceiling. The speakers can be detached, and the controls are hidden away.
The Family Doctor is Samsung's vision of a home health diagnostic kit. A person would swallow a small high-tech pill that examines internal organs. The rest of the device monitors the results, feeding data back to a physician.
Samsung deliberately appealed to the fashion sense of trendy, young, upscale females in designing its thin DVD player. The DVD-L100 portable player has an elegant simplicity and is just 23 millimeters thick.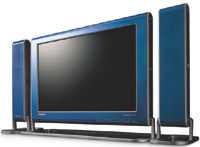 SAMSUNG SYNCMASTER
DESIGNERS: Samsung, U.K. and Korea
The LCD monitor is HDTV-compatible -- and can be hung on a wall. $5,000
PHOTO ESSAY: 2002 Best Product Designs
Another futuristic concept is the Smart Cooker. A cooking pad is stored inside the unit and unrolled when needed. A touch screen connects to the Net, allowing recipes and cooking times to be downloaded.
Corrections and Clarifications In ``Samsung shows off'' (Annual Design Awards, July 8), the SynchMaster TV monitor silver award winner is a 24-inch model, not 15 in. and 17 in.
Before it's here, it's on the Bloomberg Terminal.
LEARN MORE