Making Play Easy--and Stylish
Get set for body armor for sports. The STX Ignitor Protection Collection uses foam technology to create a system of flexible pads and gloves for lacrosse athletes. Player research led to gear that provides both the needed mobility and protection. Previous padding was heavy and hot.
The Spyfish miniature remote-controlled sub has two video cameras, lights, a 150-meter cable line, and a display screen to show live images of the mysteries of the sea to people wanting to stay dry. A wireless remote allows one-handed control. Summer fun.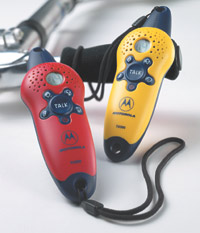 TALKABOUT T4300 SERIES TWO-WAY RADIO
DESIGNER: Motorola
It has a two-mile range and 14 channels. $19.99
PHOTO ESSAY: 2002 Best Product Designs
As is drinking wine. The Wine Celebration Funnel has a stylish art deco design and also aerates wine (in case you forget to open the bottle an hour before the steaks are ready on the grill).
The Talkabout T4300 Series is Motorola Inc.'s least expensive consumer two-way radio. The big "talk" button control right in the middle of the device makes it easy to use for kids--and adults. Good for hiking canyons or Disneyland.
Before it's here, it's on the Bloomberg Terminal.
LEARN MORE