Ma Bell's Extended Family
After all the spin-offs, what should investors do now?
Owning shares of AT&T (T ) and its spin-offs has become a bewildering experience. Once regarded as the quintessential "widows and orphans stock," simple and safe enough for any investor, AT&T is now beyond the comprehension of many. It has morphed and merged and split so many times, longtime investors often don't know what they own. Anyone who held 100 Ma Bell shares on the eve of the original Jan. 1, 1984 breakup would now own 1,250 shares in 10 companies ranging from SBC Communications (SBC ), AT&T Wireless (AWE ), and Lucent Technologies (LU ) to Qwest Communications (Q ), Agere Systems (AGR.A ), and Vodafone (VOD ).
The confusion is getting worse. A few months from now, AT&T is expected to complete the sale of its cable-TV unit to Comcast (CMCSA ) in a deal originally valued at $72 billion. AT&T shareholders will get about one-third of a share in the new company for every share of AT&T they currently own. And as the troubled global telecommunications industry continues its consolidation, the pieces of the old Bell System will change faces in new mergers and acquisitions.
How have AT&T investors fared over the past 18 years? In a new report prepared for BusinessWeek, J.P. Morgan Chase determined that if you had 100 shares of AT&T in 1984, held onto all of its spin-offs, and took all of its dividends in cash, you would have just barely beat the Standard & Poor's 500-stock index. Assuming the cash dividends appreciated 3% a year, the AT&T portfolio would be worth $46,758 today, up from $6,350 on the share distribution date of Feb. 15, 1984, for an average annual return of 12%. The S&P 500 has increased 11.3% a year over the same period, not including dividends paid by constituent companies. If the S&P 500 dividends were thrown into the mix, the index would undoubtedly have beaten the performance of AT&T and its parts.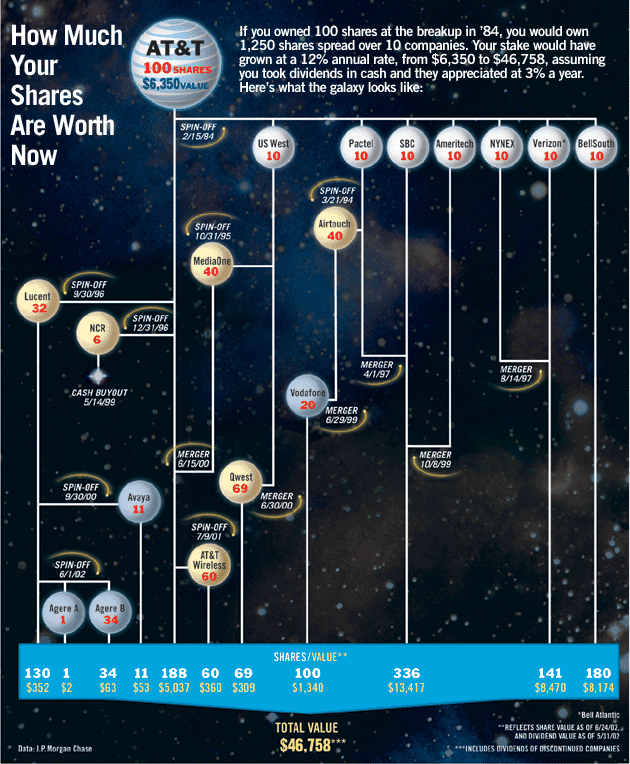 AT&T investors should have done much better. Since 1984, telecom industry revenues have risen from about 1% of gross domestic product to 3%, says Marc Crossman, telecom analyst for J.P. Morgan Chase, which has had banking ties to AT&T over the years. "Given the way telecom has been growing, you would have expected AT&T investors to have made boatloads of cash," he adds.
Why didn't they? In hindsight, AT&T was broken up along the wrong lines. Nearly all of the stock market gains achieved by the Ma Bell pieces have occurred in the local phone sector. Meanwhile, competition in the long-distance market has devastated AT&T. So instead of spinning off into seven local phone companies and continuing as a stand-alone long-distance company, AT&T should have just divided its long-distance business among the Bells.
So where does this leave investors? The telecom depression that began in 2000 is probably about half over. The boom lasted about four years, from 1996 to 2000, and the bust will probably last just as long as the industry works off excess network capacity. That means a telecom-business recovery isn't likely until 2004 or 2005, and shares of AT&T and its spin-offs will probably underperform the market for a few more years, says Crossman, who has an "underweight" rating on the entire telecom-services sector.
The Bells are the best positioned companies of the lot. Their hard-to-duplicate local lines are the key assets in the industry. They offer investors the greatest rewards, though not without risk. Revenue growth and profits are slowing as cell phones, cable modems, and e-mail eat away at their dominance of the local phone business. Local revenue growth has shrunk from 7% in 2000 to just about flat for 2002, says Credit Suisse First Boston analyst Dan Reingold. Yet they are the only companies with clearly enough cash to survive a long downturn. And their new lines of business, from long distance to wireless phones and DSL, should pay off as the economy improves. Reingold has buy ratings on all the Bells.
BellSouth (BLS ) may be the surest bet because it has a strong balance sheet and little competition in hard-to-reach rural markets. Verizon (VZ ) and SBC have national ambitions, and there's greater risk they will attempt a big acquisition that would dilute the stock. Plus, Verizon's debt level is about twice as high as BellSouth's. As for Qwest--it's a basket case. The combination of the Qwest long-distance service with the US West local-phone empire has created a nationwide monster with $26.5 billion in debt. And the Securities & Exchange Commission is reviewing its accounting practices, creating more uncertainty for investors.
The outlook for the telecom-equipment side of the old AT&T empire is tough. The Bells' troubles have caused misery for Lucent Technologies, formed in 1996 when AT&T spun off its manufacturing operations and Bell Labs research. Lucent's fortunes soared for nearly four years after the spin-off. But as many smaller customers, such as Winstar Communications, went bankrupt, Lucent went into the red.
Making matters worse, big Lucent customers such as Verizon and SBC began cutting back on spending, too. Overall, capital spending by North American telecom carriers fell 5% in 2001 and will decline an additional 29% in 2002, according to the Dutch bank ABN Amro. Growth is unlikely to resume until carriers begin to recover and resume spending, most likely in 2004 or 2005.
Yet some investors with a long horizon sense a bargain. Lucent shares have dropped from a high of $86 in 1998 to a low of $2.28 on June 24. If spending on telecom equipment does pick up in 2003 or later, Lucent stands to benefit. Kevin Rendino, who manages $13 billion in value funds for Merrill Lynch, compares today's tech malaise to the banking crisis of the late 1980s, when Citigroup traded at a split-adjusted price of $2 a share. He thinks Lucent is in similar territory and a bargain at less than $3 a share. He does expect things to get worse at Lucent before they get better later this year or next, when its largest customers boost their tech spending.
The prospects for AT&T's former wireless unit aren't trouble-free, either. AT&T Wireless is expected to boost revenue 10% to 12% this year. That's less than the original forecast of 12% to 14% growth for 2002, according to Lehman Brothers wireless analyst John Bensche. Price pressure has pushed average revenue per user down. And AT&T Wireless picked up a lot of debt from its former parent. AT&T Wireless' earnings-to-interest expense ratio is 8.3--four times higher than Sprint PCS's or Nextel's. It also faces huge costs in upgrading its network for more voice and data calls. Given all these challenges, investment-banking sources expect AT&T Wireless to find a merger partner, creating an opportunity for an arbitrage play. The most likely buyer is No.2 carrier Cingular, which uses a similar digital standard, making integration possible. But AT&T Wireless could also end up buying debt-laden Nextel Communications, analysts say. That could be a disaster for AT&T Wireless shares.
And the cable business? Together, AT&T Broadband and Comcast's revenue growth is expected to be about 9%. All of that comes from cable-modem and cable-phone sales. The combined company's $30 billion in debt has frightened Comcast investors. Its shares have dropped to $25 from $39 since December. Analysts see little near-term upside for the new company, which will be called AT&T Comcast. And some fear the deal could fall through if Comcast loses its investment-tier credit rating. Others believe the stock could pay off if operating earnings grow by 15% as promised. Sanford C. Bernstein & Co. rates it "outperform."
The prospects for AT&T itself are better than they have been in some time. The company will emerge from the cable sale with a manageable $18 billion in debt, down from a high of $65 billion in 2000. With WorldCom and Sprint still mired in debt and suffering from weak market conditions, AT&T has an opportunity to grab share in Internet services and communications to big corporations. Morgan's Crossman thinks shares of the AT&T telecom unit, excluding cable, can double, from $2.80 to about $6, in the next 12 months. After that, chances are AT&T will be acquired as the Bells win permission to enter the long-distance market in more states. And that, of course, would reunite Ma Bell with her offspring
By Steve Rosenbush
Before it's here, it's on the Bloomberg Terminal.
LEARN MORE