Remember the classic Alka-Seltzer commercial where the big guy sits on a bed, groaning, "I can't believe I ate the whole thing"? Most investors have the same sick feeling about the stock market right now. They can't remember when so many cataclysmic woes converged at once. They're fed up with corrupt chief executives, untrustworthy Wall Street analysts, and numbers-impaired accountants. And their gray hairs have been multiplying over lackluster earnings, a weakening dollar, still-rich valuations, the probability of rising interest rates, terrorism, and even the threat of nuclear war.
With its recent decline, the market has lost four years of bull-market gains. The Standard & Poor's 500-stock index is down 9.6% through June 18, after falling 10% and 13% in 2000 and 2001, respectively. The Nasdaq is down 70% from its record high in March, 2000. And although nobody thought the indexes would test their post-September 11 lows, both the Nasdaq and the S&P have.
No wonder investors' stomachs are churning. They can't believe they swallowed whole the idea that stocks would always go up. Or such bull-market dogmas as "buy and hold" or "buy on the dips." Indeed, many stocks they thought were cheap have done nothing but sink further. "I can't remember a time that was so challenging for investors. There are no clear themes like in the '90s," says Michael E. Kenneally, chief investment officer at Banc of America Capital Management.
Is it time to head for the exits? After all, parking cash in a savings account or plowing it into, say, a 19th century farmhouse seems mighty appealing these days. But if contrarian sentiments, like Warren Buffett's "You try to be greedy when others are fearful, and fearful when others are greedy," are any guide, it could be time to jump in. (Try this on for size: Ozzie Osbourne's MTV show, The Osbournes, has been trouncing CNBC's Squawk Box in the TV ratings lately.) Many strategists say the carnage indicates the market is in the midst of a bottoming out. Says Tobias M. Levkovich, institutional equity strategist at Salomon Smith Barney, "The best time to buy clothes is when there's a half-price sale at Macy's. The same with the market, if you pick the right stocks."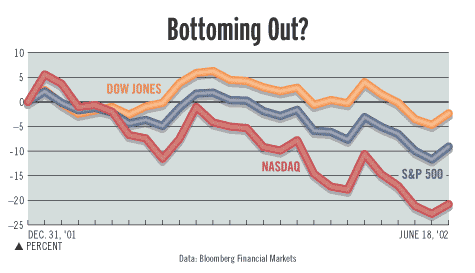 BusinessWeek sees stocks ending the year up in the single digits--perhaps around 2%. That's because the economy is on an upswing, and profits should look rosier in the final two quarters. Even a modest gain in stocks would be a huge relief for investors who lost money for a couple years. But it won't give index funds much mojo. In fact, investors, who harvested the 650% rise in the S&P from 1982 to 2000, may now have to rethink their approach to investing. Even when the market takes off again, stocks are unlikely to regain their late-'90s glory. Most strategists say they're more likely to post annual gains of around 7% or 8%--even less than the 10% annual average over the past half century.
It's a classic stock-picker's market. More than ever, investors need to do their homework. "Spend at least as much time researching a stock as you would choosing a refrigerator," as Peter Lynch, the former Fidelity Magellan manager and legendary stock-picker, says. In other words, find a top-of-the-line, turbocharged Sub-Zero selling at wholesale. Searching for stocks that can beat the S&P 500 means sticking to companies with sound fundamentals and uncomplicated balance sheets and avoiding those with any hint of a regulatory investigation. Companies should have solid long-term growth potential and be in strong or improving industries. Their price-earnings ratios should be below their industry's average. Ideally, they should be substantially off their 52-week highs. "Investors have the erroneous notion that high risk means high return," says Merrill Lynch's chief U.S. strategist, Richard Bernstein, who likes "boring" companies with safe dividends. In fact, dividend stocks get high marks across the board. "A larger and larger portion of total equity returns will be comprised of income flow," adds James Paulsen, chief investment officer for Wells Capital Management.
Investors should take comfort that the market may not be as bad as it seems. Half of the S&P 500 stocks are up for the year. Except for tech and telecom, there has been a stealth bull market with many companies racking up gains--especially the likes of homebuilders, retailers, manufacturers, and utilities that were shunned during the Nasdaq craze. The Morgan Stanley Cyclical Index is up 6% for the year. Valuations may look lofty with the S&P trading at about 21 times forward earnings, vs. a historic average of 15. But take out tech, and it's now 18.
Smaller stocks, especially in the value camp, have been outperforming the larger. The S&P 400 Barra Value index, a mid-cap measure, is up 5% this year, while the Russell 2000 Value, a measure of small caps, is up 6%. But some strategists say many battered-down large caps are becoming the better buys. "The valuation gap between small- and large-cap stocks has narrowed significantly. Large caps, especially multi-nationals, will be the primary beneficiaries of a global turnaround and weak dollar," says Charles Pradilla, chief investment strategist at SG Cowen.
Although most pros still lean toward value stocks, there's a caveat. After their big run-up in the past two years, many of these stocks are losing steam. Says Morgan Stanley Chief Investment Strategist Steven M. Galbraith: "We believe the fat value-over-growth style pitch has already been hit out of the park." Famed hedge-fund manager Leon Cooperman agrees: "Most growth stocks aren't growing, and value stocks are overvalued."
The market is littered with wealth-threatening "value traps"--former highfliers like WorldCom (WCOM ), Lucent Technologies (LU ), and Tyco International (TYC ) that have been pulverized. To many investors, finding such big-name stocks so low seems akin to discovering a Rolex at a tag sale. Trouble is, many have such deep problems that they keep tanking--and some may never rebound.
That's why both buying and selling discipline is vital. "Stocks can tumble 30% or 50% in a few days on bad news, so it's important to know when to sell," says Ken Wolff, chief executive officer of MTrader.com, a Paradise (Calif.) trading firm. It can also be smart to buy good companies when an entire sector plummets on bad news. On June 12, when questions arose over advertising giant Omnicom Group's (OMC ) accounting, investors drove the stock down almost 20%. They also slashed other big ad stocks like WPP Group (WPPGY ) and Interpublic Group (IPG ) by the same amount. "It's the cockroach theory: Investors think if one company has a problem, there must be a million behind the fridge," says Levkovich. Likewise, dumping losers during a sector rally can pay off.
Many pros say the market resembles the recessionary 1970s, when investors had little confidence in earnings and few bought stock. Volume was low, volatility was high. "At that time, everyone knew the only way to make money was to buy at lows and sell on rallies," says Paulsen. A good rule of thumb: Bail out when a stock loses, say, 10% or gains more than 20%.
Nobody's advocating day trading or frenetic momentum trading of any sort. But a volatile market can offer good opportunities to reallocate assets--especially for those who still own too many tech stocks. More than ever, having a diversified stock portfolio is essential.
A stock-picker's market is never easy. But the next six months could create some decent opportunities. The biggest--and perhaps only--catalyst will be corporate profits. "That should ultimately drive the market," says Edward M. Kerschner, UBS/PaineWebber's chief global strategist. After six consecutive down quarters, earnings are finally turning up. Not only is the economy helping, but year-over-year comparisons are getting much easier. According to Thomson First Call, analysts figure third- and fourth-quarter profits will be up 18% and 29%, respectively, over last year. However, Charles L. Hill, First Call's research director, says those estimates could be trimmed. After technology, which has been severely depressed, financials and consumer cyclicals should be up the most. The reason: Consumer spending has been strong.
But because investors are leery about possible accounting shenanigans, there could be a delayed impact on stock prices. "The market is going to wait for earnings rather than an anticipation of earnings recovery," says Kerschner. He and others say the market's turnaround should begin in mid-October, when third-quarter earnings appear.
There's a disconnect in investors' minds between an improving economy and the stock market. "Reasonably good economic news isn't enough," says Merrill's Bernstein. "In order for stocks to appreciate, you need outrageously good news." That said, gross domestic product is still growing at a healthy clip and manufacturing activity is expanding. Even rising interest rates shouldn't stop the market. Experts say a one-percentage-point increase is priced into stocks. As a result, says Morgan Stanley's Galbraith, "The first few takebacks might not carry the same historic weight as other tightening periods."
What's an investor to do? Historically, summer has the lowest returns of any season, according to the Stock Trader's Almanac, a market-timers guide. And some strategists are saying a bottoming phase that started in May could last into fall and open a lengthy buying window for investors. "Stocks will get a little cheaper while earnings start to rise," says SG Cowen's Pradilla.
Even longtime bear Byron R. Wien, Morgan Stanley's U.S. investment strategist, likes stocks right now. He notes that investors are very pessimistic--a classic contrarian indicator. According to the NDR Crowd Sentiment Poll from Ned Davis Research in Venice, Fla., only 39.6% of those recently polled are bullish. That compares with 37.6% right after September 11 and 69% in January, 2000, before the Nasdaq crash. Says Wien: "I believe we are approaching at least a temporary low, and a counter-trend move is about to take place."
History seems to support this view. The S&P 500 has now fallen in 11 of the last 13 weeks, according to researcher MarketHistory.com. Five out of the six times that has happened, the market climbed over 11% in the next six months. Of course, worries about corporate malfeasance, terrorism, and wars still weigh on the market. Nevertheless, "investors who are waiting for clear signs of improvement will miss a lot of upside," says Banc of America's Kenneally.
Could be. But in order to capture that upside, you've got to pick the right stocks.
By Marcia Vickers
Before it's here, it's on the Bloomberg Terminal.
LEARN MORE