Last year, Compaq Computer Corp. (CPQ ) put its sales force and network of dealers on notice: Stop losing server sales to Dell Computer Corp. (DELL ) For too long, pesky Dell had used cutthroat prices to woo customers and gain market share. For a while, Compaq hadn't dared drop its prices, fearing a hit to profits. But by March, 2001, Compaq executives had had enough. They decided to free their salespeople and dealers to meet Dell's prices on the spot.
That did the trick. By the first quarter of this year, Compaq was gaining market share again, adding a half-point, to reach 26% of the server business, after two straight years of losing ground to Dell. The problem, though, was that the move did just what managers feared: Enterprise Computing group revenue, which includes server and storage devices, fell 19%, and profits were down 86%. Now, Compaq is counting on the $19 billion merger with Hewlett-Packard Co. (HPQ ) to give it the purchasing power and production efficiencies to stop Dell.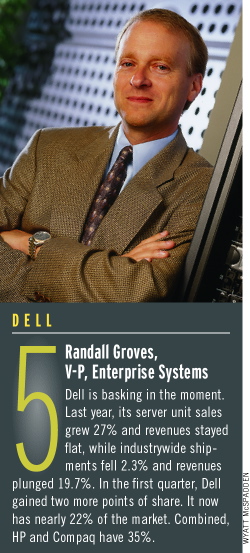 The issue is simple economics. The same combination of off-the-shelf parts and ruthless efficiency that vaulted Dell ahead of bigger rivals in the PC business is now helping it grab share in the more lucrative server market. That, in turn, is putting the squeeze on rival computer makers, who are struggling to hang on to their customers and their profit margins. The combination lifted Dell to No. 5 on BusinessWeek's Info Tech 100, while Compaq, Sun Microsystems (SUNW ), and Gateway (GTW ) were no-shows.
Dell is basking in the moment. Last year, the company's server unit sales grew 27% and revenues stayed flat, while industrywide shipments fell 2.3% and revenues plunged 19.7%, to $55.6 billion. In the first quarter, Dell continued its assault on the low end of the server market, gaining nearly two more points of share. It now lays claim to 20% of the market, second only to HP and Compaq's combined 35%, according to researcher IDC.
That has top server makers scrambling to lower their costs, boost efficiency, and offer customers less expensive choices. HP (No. 99) has lowered costs by outsourcing 35% of server manufacturing to Taiwan-based Inventec Corp. (No. 68), and boosted direct sales to one-third of its total. That's helped increase HP's annual inventory turns to 43--still a far cry from Dell's 90-plus. Last month, IBM (IBM ) (No. 21) cut 1,000 workers in its server unit to slash costs. Even Sun is developing inexpensive servers built around Intel Corp. (INTC ) chips and Linux software instead of the proprietary technology that goes into its brawny boxes costing hundreds of thousands of dollars. "Dell has really forced the low-cost issue," says analyst Mark Melenovsky of researcher IDC.
Computer makers may have to make even more radical changes. Despite its improved efficiency, HP's operating expenses are still 21% of revenue, twice Dell's 9.9%. IBM carries a 23% load. And in the third quarter, ended Mar. 31, Sun's expenses ballooned to 47%. Rivals' higher costs will continue to give Dell freedom to slash prices and steal market share. "The other companies will lose money if they price to Dell," says analyst Brooks L. Gray of researcher Technology Business Research.
What to do? Demand is too high in the low-end server market for computer makers to leave it to Dell. Sales of Intel servers that run Microsoft Corp.'s Windows operating system are expected to grow 11% this year, vs. 6% for Unix servers, according to IDC. Once thought too flimsy to handle anything more than small office networks and e-mail systems, these low-end Windows servers are moving uptown to power big corporate databases and critical back-office systems. Even buyers that shun Windows can now buy cheap servers running Linux, the free operating system popular with techies.
Just ask Joseph Overocker. The director of technology for Nando Media, which runs Internet news sites and portals for newspapers, started looking into switching his data center from 50 Sun Unix servers to Dell's Linux machines about 18 months ago. With Dell, he wouldn't have to pay extra for support, as he did with Sun, because the Intel machines come with standard warranties instead of expensive maintenance contracts. And for the same level of performance from the Sun gear, he would pay one-half to one-third as much. Overocker took $1 million budgeted to upgrade his Sun gear and instead bought 100 Dell machines. "It's a cheaper way to go," he says.
Now, Sun is changing its ways. After years of deriding low-end Windows servers as an unworthy competitor to its powerful Unix boxes, Sun has discovered that it can't afford to lose more customers such as Overocker. The company already saw server sales fall 27% in its third quarter, to $1.5 billion, according to Banc of America Securities. Now it's planning to release new, low-cost Linux servers this summer.
Sun's success will depend, in part, on its ability to manage expenses. It's trying to reduce component costs by using fewer custom parts. It's also thinking of adding overseas outfits to its U.S. suppliers as sources for the chips that run its servers. That should help it deliver on a promise to return to profitability in the quarter ending June 30.
For all the cost-cutting, computer makers aren't giving up on innovation. IBM and Compaq have invested millions of dollars in sophisticated software that allows low-end servers to be managed remotely via the Internet, including ways to load software, repair bugs, and run maintenance. For customers with hundreds of small servers running at the same time, that's becoming a must. Dell has developed its own software to manage servers but can claim only some of the capabilities the others offer, concedes Randall D. Groves, Dell's vice-president for enterprise systems. At the same time, IBM has been working on the development of chip technology for Intel servers that will be key for customers who need to consolidate the chores of scores of small servers onto a few more robust ones. Dell has to wait for Intel to develop the same technology, which isn't expected out until later this year. "IBM has invested. Dell hasn't," says Susan Whitney, general manager of IBM's Intel server group.
Staying ahead means jumping into new markets before Dell does. Take so-called blade servers, machines that use less power and take up less space. They're only a few inches thick and can be packed 300 servers at a time in one rack, compared with the usual 6 to 12. HP and Compaq lead rivals in this nascent market. Dell didn't have the expertise in house to develop the sophisticated software needed to manage these machines and has had to license the technology from Sunnyvale (Calif.) upstart Jareva Technologies Inc. Dell's blade servers won't hit the market until the third quarter.
What's appealing to customers about blades, says HP's Intel server honcho, Mary T. McDowell, is the software that can configure the hardware according to their needs. Want to dedicate more computing power to handle Web traffic and less to payroll? Just reprogram the machine. Ultimately, McDowell says, it's the software that corporate customers will pay for, not hardware. "We're positioning ourselves for the long term, when hardware is free," she says. "Dell can't live on free hardware."
Maybe not. But neither can HP and other computer makers--at least, not yet. And given Dell's track record of sneaking up on the competition, they had better not count it out of the server market.
By Andrew Park in Dallas, with Spencer E. Ante in New York
Before it's here, it's on the Bloomberg Terminal.
LEARN MORE