For Overture, the Stage Is Getting Crowded
If imitation is the sincerest form of flattery, Overture Services Inc. (OVER ) could do with fewer compliments. In 2001, the pioneer in pay-per-click search technology did what seemed impossible: It proved that online advertising can pay. Now, it faces an onslaught of competition, particularly from Google Inc., the most popular Net search engine. In May, Google scored a coup when it swiped America Online's pay-per-click search business from Overture. "Competition will cut into margins," says Overture CEO Ted Meisel. "But the opportunity to increase revenues is there."
No question about that. Last year, Overture saw the number of advertisers signing up for its service jump 39%, to 53,000. That drove revenues up 180% for the year, to $288.1 million, and pushed the Pasadena (Calif.) company solidly into the black, with a $20.2 million profit. The performance landed Overture, formerly GoTo.com, at No. 73 on BusinessWeek's annual Info Tech 100 list. Analysts expect Overture to report a $62 million profit this year, on $563 million in sales.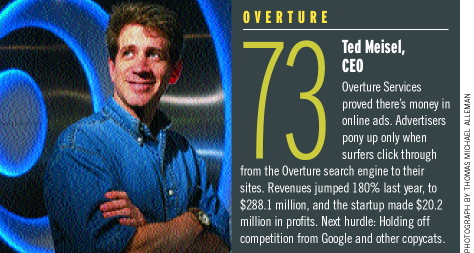 Overture's appeal to advertisers is simple. The service offers an efficient way for them to attract the right customers to their Web sites. Overture's advertisers choose search words--keywords in Internet parlance--and make bids on how much they're willing to pay to have those words turn up on top of searches. Here's the clincher: They pony up only when prospective customers click through to their sites. "It's like finding a gold mine," says Karen McMasters, who runs baby-supply site Barebabies.com. She figures 60% of Barebabies visitors who come from Overture make purchases, vs. 1% for those who find her site through billboard-like banner ads on the Web. That explains why the average price advertisers paid Overture jumped 26% last year, to 23 cents for every lead.
Still, success breeds competition. Google introduced its rival pay-per-click product earlier this year and quickly scored a coup with AOL, a unit of AOL Time Warner Inc. (AOL ) Smaller rivals, such as FindWhat.com in New York, have rolled out similar pay-per-click services. Even some of Overture's customers have considered developing their own search technology. Although the company still has 85% of the pay-per-click market, investors have beaten Overture's shares down from a high of $42 in January to $22 now.
Meisel is fighting hard to hold on to customers, but it won't be easy or cheap. This year, Overture has renewed partnerships with Yahoo! (YHOO ), MSN, AltaVista, CNET Networks (CNET ), and United Online (UNTD ). However, the company is giving customers better terms than it did last year. Analysts estimate that to ink a deal with Yahoo this spring, Overture had to give Yahoo at least 60% of the revenues that come through Overture's search engine, up from the 50% average for past portal deals.
For now, that isn't cutting into Meisel's plan to expand, thanks to a debt-free balance sheet and $186 million in cash. He's adding new services for advertisers and expanding into France later this year. "We can't sit still," Meisel says. That fighting spirit will serve him well as his competition grows in the months ahead.
By Arlene Weintraub in Pasadena, Calif.
Before it's here, it's on the Bloomberg Terminal.
LEARN MORE