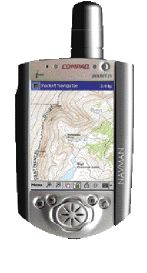 In a column several weeks ago (Tech & You, Apr. 15, 2002), I took at look at some satellite-based mapping systems for handheld devices and found them wanting. Since then, a couple of new and more promising hardware-software combinations based on the global positioning system have come my way.
The more interesting of the two is an offering from Maptech (www.maptech.com) that turns a Compaq iPAQ PocketPC into a personal mapping device useful on land, on the water, or in the air. Maptech sells its Pocket Navigator software and a Navman GPS receiver for the iPAQ with automobile charger and mounting hardware for $349.95. The software alone is $99.95.
The products I looked at earlier are navigation systems designed to be used in a car. Maptech's approach is to combine GPS data with digitized versions of U.S. Geological Service topographical maps, National Oceanographic & Atmospheric Administration marine charts, and Federal Aviation Administration navigational charts.
Having neither a boat nor an airplane, I loaded up my PC with the $149.95 Terrain Navigator map pack, which includes every USGS quadrant in Pennsylvania, New Jersey, Maryland, Delaware, the District of Columbia, Virginia, and West Virginia. (Map packs covering various states and regions range from $49.95 to $149.95.) To use it, you choose the appropriate disk from the set, choose a quadrant map, and download it to the iPAQ. The handheld displays a faithful reproduction of the printed map. Scale ranges from 20 nautical miles, which shows nearly the entire 60-by-30 nautical-mile quadrant but is useless on the iPAQ's small screen, to half a mile, which displays detail you might miss on a printed map. When GPS is turned on, your position (down to a few feet or so under ideal conditions) appears as a red circle and a red line indicates your track on the map. One problem beyond Maptech's control: Budget constraints have stopped much USGS resurveying, and many maps are based on 40-year-old data. Especially where there has been development and road building, map features, and sometimes even the underlying topography, can be wildly inaccurate.
Although the device works well, its use may be limited mainly to folks who don't stray too far from a power source. At best, you might get six hours of continuous GPS use on the iPAQ's nonreplaceable battery. Backcountry hikers are far more likely to choose a lightweight GPS unit that just gives coordinates to be used with a conventional map. You'll need the paper map anyway, since no one should trust their life to any electronic navigation device without manual backup. Planes and most boats often have GPS systems, though the iPAQ-based system is a nice supplement to bare-bone GPS that only displays coordinates and not charts.
The other product I tried was an updated version of TravRoute Pocket CoPilot (www.travroute.com). The $349 device replaces a Navman GPS sleeve, similar to the one used with Pocket Navigator, with a receiver that fits into a CompactFlash slot on a PocketPC. This has two advantages. While the previous version worked only with iPAQs, version 3.0 can be also used with the Audiovox Maestro, the Hewlett-Packard Jornada 560 series, and the Casio Cassiopeia E-200. The second advantage is that the unit comes with an extension antenna that can sit on the dashboard of your car to get clearer satellite reception while allowing the PocketPC to be located more securely on a seat or console. The setup eliminates the need for a suction cup window mount, which I have found is prone to let go in frightening and unpredictable fashion.
Otherwise, CoPilot works much like its predecessor. It is designed more for in-route navigation than mapping. You can plot a trip on a PC and download the driving directions to the PocketPC or plot a trip on the handheld using a previously downloaded map. As you drive, the PocketPC displays information on your location and the next turn. It also tells you the instructions using speech synthesis and the handheld's built-in speakers. It's still no match for a built-in navigation system. But it's a bargain, especially if you already own a PocketPC.
Before it's here, it's on the Bloomberg Terminal.
LEARN MORE