More Options for Options Traders
Savvy online brokers offer tools and knowhow
Shelley Frances Gould, who trades options for her own account, was frustrated. The E*Trade customer reps she dealt with weren't savvy about options questions, and the broker didn't give her the choice of such complex online trades as the butterfly spread, a three-part hedge strategy. Gould, a 43-year-old resident of Palo Alto, Calif., also thought she wasn't getting the best prices, because her trades weren't being executed speedily enough. In short, she felt like a second-class citizen in the online trading world. So last year Gould opened an account with boutique online broker optionsXpress and hasn't looked back since. "They cater to the options trader and know exactly the kind of information we want," she says.
Chicago-based optionsXpress is just the latest specialty broker picking up the slack from regular online brokers by tending to the particular needs of investors who trade options. These firms offer specially trained customer-service reps and cutting-edge trading tools designed expressly for options, which are contracts to buy or sell a fixed number of shares at a specified time for a specific period. "Most mainstream brokerage firms have been slow to add options-specific tools and analytics," says Jean-Paul Carbonnier, a brokerage analyst at TowerGroup in Needham, Mass. E*Trade (ET ), which says it is increasing its options focus, plans to add more complicated trades within the next two quarters. Meantime, optionsXpress, along with WallStreet*E, Wall Street Access, and Mr. Stock--all of which also offer stock and mutual fund trading--are luring options clients away from regular brokers.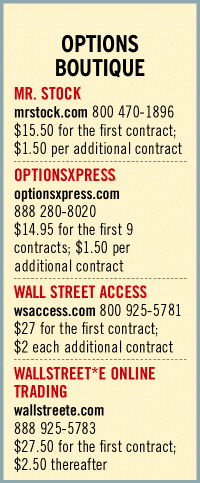 It's a small but lucrative slice of the online market. Because options investors trade more frequently than the average stock trader, they generate more commission revenue, Carbonnier says. They're also a fast-growing pool of investors. Thanks to the advent in 2000 of the International Securities Exchange, the only fully electronic options market, execution prices have declined. At the same time, decimalization of equities has led to narrower spreads. As a result, trading volume has more than doubled in the past four years, after growing at a 20% annual rate in the early 1990s.
Regular online brokers don't promote options trading even though most offer it. Besides the market's small size, options are more complex than plain-vanilla stocks, so firms need highly knowledgeable professionals to deal with clients. And as the likelihood of an investor losing substantial sums of money is higher in trading options, so is the likelihood of lawsuits.
The specialized brokers, on the other hand, are well prepared to deal with the risks. They usually have a rigorous process for screening clients. For instance, you have to fill out a form to state your objectives in trading options. If your goal is to bet on price moves rather than protect your portfolio, a broker could require you to have more money in your account.
Once you open an account, you can conduct complex trades for similar or even lower transaction fees than you would pay regular brokers. You also can avail yourself of risk-assessment tools that track volatility and chart profit-and-loss thresholds. When you're on vacation or too busy to trade, some firms offer automatic trading based on recommendations of prominent options advisers, a very popular feature. The customer-service reps at these options brokers have passed the Series 4 securities exam that tests a person's knowledge of options trading and rules.
All these services are paying off. Options-Xpress, which began on Jan. 1, 2001, is now profitable and as of March boasted 10,000 clients. CEO Ned Bennett says the firm is adding accounts at the rate of 500 a week. Judging by such growth, especially in a bear market, Bennett and others have hit on a successful formula.
Corrections and Clarifications In "More options for options traders," which appeared in some editions of the May 27 BusinessWeek Investor, the phone number for Wall Street Access was incorrect. The number is 800 925-5781.
By Pallavi Gogoi
Before it's here, it's on the Bloomberg Terminal.
LEARN MORE