Table: A Raft of Troubles for GE
SEPTEMBER 11
Immelt had been on the job for just one day when the Twin Towers fell. The terrorist attacks left him with two employees killed, delayed jet-engine orders, a $600 million insurance hit, and the prospect of even more economic misery ahead.
ENRONITIS
The accounting debacles at Enron and Tyco (TYC ) shredded the veil of invincibility surrounding America's corporate icons, GE first and foremost. Increasingly skeptical investors are demanding more information about GE's byzantine finances, and Immelt has begun to provide it. Still, GE's amazingly consistent earnings growth no longer commands the respect it used to.
BILL GROSS
When one of the financial community's most admired figures accused GE of inflating earnings through acquisitions and cheap debt rather than through organic growth, the company's stock fell 6% over two days.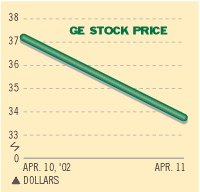 EARNINGS
GE posted flat revenues, a decline in operating cash flow, and a profit increase of 17% before taking charges for accounting changes. Investors reacted badly to the news about sales: The stock fell 9.3% in one day. Just as troubling was the fact that GE confirmed that growth at its Power Systems unit, one of the company's strongest, will falter in 2003.
Before it's here, it's on the Bloomberg Terminal.
LEARN MORE