Sport-Ute Trucks Still Have Miles to Go
In most cases, you may be better off choosing a traditional SUV
When it comes to sport-utility vehicles, the motto could be: The more extreme, the better. First, it was the battle for size, with every auto maker supersizing its SUVs. That culminated in Ford Motor's (F ) mammoth Excursion--the Big Gulp of sport-utes. Now, the latest trend is to take an SUV cab and slap a pickup-truck bed on the back. Better yet, add rare wood paneling, a discreet dash of chrome, loads of upscale features, and a sky-high sticker price.
While these "sport-ute trucks" (SUTs) draw admiring glances at auto shows, they aren't especially useful. For one thing, the truck beds of Cadillac's Escalade EXT and Lincoln's Blackwood are too small for real cargo hauling. Golf clubs or bulky hockey gear might fit, but I stashed my groceries and shopping bags on the back seat for fear they would roll all over the truck bed.
Now, nobody says high-end vehicles have to be practical--just look at sporty roadsters. Yet in the luxury department, these SUTs either fall short on top-notch amenities (EXT) or don't deliver the ride and handling you'd expect from a $50,000-plus cruiser (Blackwood). Not to mention that it's hard to imagine these gleaming chrome-and-wood behemoths sullied with mud or dinged by gravel from driving off-road.
For going to extremes--or to the grocery store--the more traditionally configured SUVs are a better bet. Ford's new Expedition full-size SUV and its confrere, the Lincoln Navigator, offer more practicality and comfort, not to mention better handling, than the pricier Blackwood.
The 2003 Expedition, arriving in showrooms this spring, knows its purpose in life: to get muddy, if it must, but to get you and all your stuff where you're going in relative comfort. Its new independent rear suspension provides smooth handling and a comfortable ride, while still giving the driver a feel for the road.
Safety features abound. Sonar has been added to the radar system (a $255 option) to alert a driver to obstacles behind the SUV when it's in reverse. Power pedals adjust to suit both tall and short drivers. Stability control ($795 extra) helps prevent skids. A tire-pressure monitor (a $150 option) chimes to alert the driver if a tire is under- or over-inflated to avert blowouts or handling problems. If a rollover occurs, side canopy air bags should keep occupants from being ejected.
The Expedition starts at just over $31,000, the same price as the previous model, while the Eddie Bauer edition costs nearly $42,000, a $110 hike. The completely redesigned models offer third-row seating that folds flat into the floor (automatically, with the $455 power-fold option), as well as a flip-down second row. Ford hopes that flexibility between passengers and cargo might lure some families out of their minivans.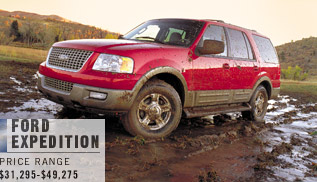 The Navigator, Expedition's Lincoln sibling set to arrive in May, boasts a cushier version of the same new suspension. Engineers promise the steering feel is reminiscent of Lincoln's LS entry-luxury sedan. As for upscale amenities, a rear liftgate opens automatically and retractable power running boards extend when the door opens. Air suspension lowers the vehicle by an inch, to make it easier to step in or out. The Navigator's instrument panel gleams subtly with touches of satin-finish nickel. The SUV starts at about $49,000 and reaches nearly $60,000 fully loaded.
If you want a more radically styled luxury SUV and a pickup bed suits your purposes, Cadillac's Escalade EXT is a better choice than the Blackwood. The $50,000 EXT--imagine a gussied-up Chevy Suburban with a pickup bed instead of a third row of seats--offers better ride and handling as well as greater flexibility for stashing cargo. Too bad its cheap furnishings scream Chevy, not Cadillac. In fact, as the upscale version of the Chevy Avalanche (derived from the same Suburban chassis), the EXT shares too many of its $31,000 sibling's interior features, such as a plastic dashboard.
A colleague found the truck bed ideal for carting three oversize duffels of fencing equipment to an out-of-state meet and the interior roomy enough for four lanky fencers. For maximum cargo space, the cab's back window retracts and the rear seat folds flat, elongating the five-foot pickup bed to eight feet. One drawback: A narrow back window impedes the driver's rear view. As for handling, the EXT, helped by the balanced weight of its cab, feels less bulky than the jumbo Suburban SUV and more stable than GM's (GM ) pickups, which also share its chassis. While none of these turn on a dime, the EXT is easier to maneuver on crowded city streets.
The Cadillac clearly outhandles Lincoln's $53,000 Blackwood. The Lincoln's leather-swathed interior is comfy and its gleaming dashboard luxurious, but the transmission feels rough, the ride bouncy, and the brakes sluggish. While its bed cover rises smoothly at the touch of a key fob, the cover doesn't detach, limiting space in the shortened bed.
Consumers have noticed. Since its November debut, just 550 have sold. (By contrast, Cadillac sells about 1,000 EXTs a month.) Lincoln recently said it will stop making the Blackwood in April, 2003. A spokesman said the truck was always intended to be stopgap measure until the new Navigator, as well as the midsize Aviator SUV slated to arrive this summer, hit the market.
The Blackwood's demise doesn't mean the concept of slapping a pickup bed on just about any vehicle is dead. GM will introduce its stylish SSR, a brawny roadster with a pickup bed, early next year. Carmakers figure that anyone willing to go to extremes isn't trying to be practical anyway.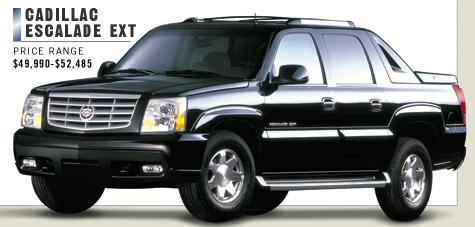 Corrections and Clarifications Because of a captioning error on the Ford Motor Co. Web site, the photograph of the SUV identified as a Lincoln Navigator in ``Sport-UTE trucks still have miles to go'' (BusinessWeek Investor, Apr. 22) is actually a Lincoln Aviator.
By Kathleen Kerwin
Before it's here, it's on the Bloomberg Terminal.
LEARN MORE