Table: Reading Cisco's Notes
TABLE 1
Cisco's options outstanding rose from 876 million to 1.06 billion over three years. Its annual grants also increased, from 245 million to 320 million.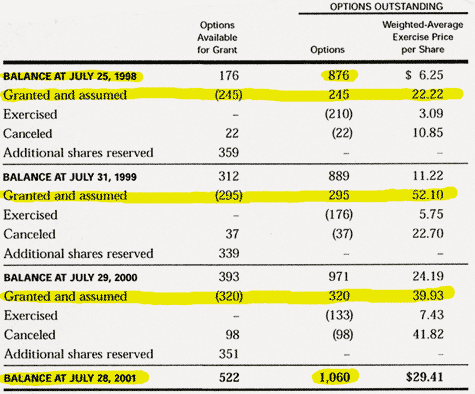 TABLE 2
"Options Outstanding" (left side) tells you that almost a half billion options have strike prices below Cisco's current $17 stock price. "Options Exercisable" reveals that 354 million of these options can be exercised now.

TABLE 3
Cisco's official bottom line showed a loss of $1.014 billion of the year ended July 28, 2001, but the loss would have been $2.705 billion. The difference is the cost of the options.

TABLE 4
Cisco figures the expected volatility of its stock fell from 40.2% to 34.8% over the past two years. This improves the pro forma earnings in Table 3.

Before it's here, it's on the Bloomberg Terminal.
LEARN MORE