GOOSE GROWTH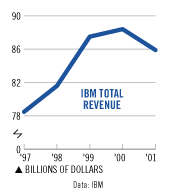 Lou's Legacy: When Gerstner took over IBM (IBM ) in 1993, the company had lost $16 billion over the three previous years. In 1994, IBM posted a 6% revenue gain. It kept growing, averaging 5% sales growth over the next seven years.
Sam's Challenge: In the last two years, IBM's growth has stalled. In 2000, revenue grew 1%. IBM sales declined 3% last year and fell 11% in the latest quarter. True, Big Blue has fared better than rivals. But when the economy picks up, so must IBM to reach its goals of high-single-digit growth for revenues.
SMOOTH EXECUTION
Lou's Legacy: Before Gerstner, IBM was a lumbering giant unable to execute quickly. It's still far from being a tech speedster, but it's a lot more responsive than it used to be. These days, IBM introduces a new Unix server every 12 months instead of every 2 years.
Sam's Challenge: Apart from services, there are always one or two parts of the company that stumble. Nowadays PCs, storage, and semiconductors are trouble spots. In PCs, for example, IBM's cost structure is too high. It has outsourced production of desktops, but it may have to outsource laptops, too, or slash jobs.
CUT COSTS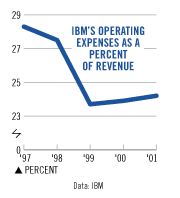 Lou's Legacy: Gerstner cut operating expenses from 37% of revenues in 1993 to 23.8% last year, using the Web to gain efficiencies. Last year, IBM purchased about $45 billion of goods and services over the Net, saving $400 million.
Sam's Challenge: Progress has stalled. Although operating expenses were briefly down to 22.5% of revenues in the fourth quarter of 2000, they're back up to 23.9%. While IBM buys big-time over the Web, it sells only 25% of its goods and services online.
REIGNITE SERVICES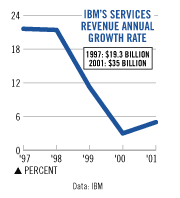 Lou's Legacy: Gerstner turned IBM into a tech-services powerhouse. With $35 billion in revenues and a contract backlog of $102 billion, IBM Global Services contributed 40% of IBM's $85.9 billion in revenues and 50% of its $10.9 billion in pre-tax profits in 2001.
Sam's Challenge: For the first time, IBM's services revenue fell in the fourth quarter--to $9.06 billion from $9.19 billion a year earlier. IBM must sign up more small-to-midsize customers and get ahead of the next shift in corporate computing: delivering technology as a utility-like Web service.
PICK HARDWARE HOT SPOTS
Lou's Legacy: Gerstner's faith in the mainframe paid off as e-commerce drove sales of Big Iron. For the first time since 1989, IBM's mainframe business grew in the fourth quarter. Gerstner invested wisely in high-end server technology and became a custom-chip supplier to the rest of the industry.
Sam's Challenge: He must stay a step ahead of rivals in the server business while extending the life of the mainframe. To do that, he must find a way to push mainframes as a less expensive alternative to buying scores of smaller servers.
BOOST SOFTWARE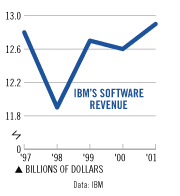 Lou's Legacy: The 1995 purchase of Lotus Corp. didn't make IBM a big application-software maker. But in late 1999, Gerstner emphasized heavy-duty software such as databases and server programs. And IBM's WebSphere server software, which dishes up e-commerce programs, is No. 2 in the market.
Sam's Challenge: Despite some bright spots, IBM's software division has averaged only 3% growth since 1993 and has fallen to No. 2 in software from No. 1. Palmisano will have to make his $1 billion bet on Linux software for big corporate jobs to pay off.
Before it's here, it's on the Bloomberg Terminal.
LEARN MORE