Mikhail Khodorkovsky
Chairman of the Management Board of Yukos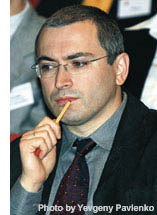 Mikhail B. Khodorkovsky, chairman of Russia's second-largest oil company, Yukos, is giving the oil barons of OPEC a run for their money. Even though the Russian government agreed to reduce crude oil exports by 150,000 barrels per day for the first quarter in response to OPEC demands, Khodorkovsky intends to raise his company's output by as much as 20% this year.
The oil magnate is spearheading Russia's drive to increase its importance to the West as an energy source in the aftermath of September 11. Even before that, oil production in Russia was soaring as executives like Khodorkovsky spent millions of dollars investing in new fields and equipment. Industrywide, oil production climbed 7.7% last year in Russia. At Yukos, it surged 17%. "Russia can be the reserve tank for the U.S. and Europe," Khodorkovsky says.
Just over two years ago, Khodorkovsky, 38, was making headlines for locking minority shareholders out of meetings and diluting their stakes. But now, after consolidating his control over Yukos, the bad boy of Russian business has turned a leaf. Yukos is the first major Russian oil company to issue quarterly financial statements that meet U.S. standards. Investors are rewarding him: Yukos' share price is up 250% since Dec. 31, 2000. If Khodorkovsky can keep this up, the Russian energy industry, with Yukos as its standard bearer, may finally get some respect.
By Catherine Belton in Moscow
Before it's here, it's on the Bloomberg Terminal.
LEARN MORE