Transportation: A Long Haul to Recovery?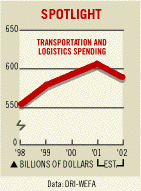 TheraSense Inc.'s (THER ) founders concede they know more about the chemistry of diagnostics than logistics. That's why they decided to give UPS Logistics the job of distributing the new FreeStyle test--a painless method for diabetics to check their blood-sugar levels. The logistics arm of United Parcel Service Inc. harnesses Internet technologies to track, stock, and ship the kits from a warehouse in Delaware--3,000 miles from TheraSense's headquarters in Alameda, Calif. "That frees us to focus on electrochemistry," says Tae Andrews, TheraSense's vice-president for sales and marketing.
With just $60 million in sales, TheraSense is a tiny blip in the immense world of transportation. But its arrangement with UPS represents a big trend. Despite the recession, Internet-driven logistics continue to remake the way in which goods are stored and moved around the globe. Indeed, this is the one segment of the industry that's predicted to grow strongly in 2002 and beyond. Revenue in this segment is expected to nearly double in the next five years, to $100 billion, according to a recent report by Lazard Freres & Co.
For transportation as a whole, however, revenue will slide by 2.8%, to $587 billion in 2002, from $604 billion last year. Industry execs are particularly bearish about prospects through the first quarter. It's clear that manufacturers will be shipping fewer products to stores, that retailers will be transporting fewer goods to customers, and so on. That, in turn, is hurting purchases of trucks, planes, and railcars. "There are going to be a lot of anxious moments in the boardroom about capital spending this year," says Matthew K. Rose, CEO of Burlington Northern Santa Fe Corp., the largest U.S. railfreight operator.
Still, come the second half of 2002, transportation demand is expected to get into gear and roll on for the next several years. "When volume rebounds, we'll see a strong return of earnings, given how efficient transportation companies have become," says Lazard's transportation analyst, James L. Winchester.
Until then, every shipper is in the slow lane. "When the economy slows, so does the transportation industry," says Hugh L. Randall, vice-president of Mercer Management Consulting Inc. Trucks, the biggest domestic shippers, are in especially bad shape. Yellow Corp. (YELL ), the nation's largest trucker, has seen its normal daily volume of 70,000 loads fall 13% in the past 14 months--the lowest level in 15 years. Even harder hit are local and regional truckers. Nearly 5,000 of them have closed or filed for bankruptcy in the past two years, according to a study by A.G. Edwards & Sons Inc. And looming on the horizon is new competition in the form of low-price Mexican truckers, which are expected to gain U.S. entry for the first time under legislation that probably will be approved early this year.
Truckers aren't suffering alone--rail, sea, and airfreight companies are hurting, too. Analysts expect revenues for the nation's 10 freight railroads to grow 1% to 2% at best this year, and rail carriers will continue to have trouble raising prices. Ocean shippers are even worse off. Sea-freight capacity will grow 13% to 14%, while demand lags behind at just 6% to 8%, according to Lazard--a combination that translates into falling prices. Says Winchester: "There are too many boats in all sectors, and the industry is awash in capacity." Domestic airfreight faces a similar problem, and carriers have already slashed freight capacity by 20% since September.
While competition is whittling down the cost of cargo space, demand for logistics services is climbing steeply. And 2002 is expected to be the best year yet for this young segment. "That's when we'll really begin to harvest our investment in logistics over the past decade," says UPS' (UPS ) incoming chairman, Michael L. Eskew, who expects his logistics business to continue growing in the double digits.
The logistics boom will spread to rail, sea, and road transporters too. "We're offering one-stop shopping--everything from one-day delivery to inventory management," says Yellow CEO William D. Zollars. "I'm constantly reminding our people that our competitors today are the UPSs and FedExs (FDX ) of the world." Logistics, it seems, is transforming a hardworking sector into a service-focused, high-tech one, as well.
By Charles Haddad in Atlanta
Before it's here, it's on the Bloomberg Terminal.
LEARN MORE