Software: Few Bright Spots, Apart from the Home PC
Corporate America will avoid software splurges, except for certain niches, including security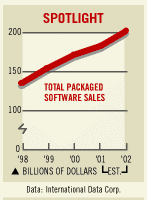 Last February, Oracle Corp. staged a pull-out-all-the-stops customers' conference topped off by a rock concert at the Louisiana Superdome in New Orleans. There, Oracle CEO Lawrence J. Ellison happily speculated that his business software company would turn out to be "counter-cyclical" to the rest of the economy. In an effort to cut costs and boost efficiency, he reasoned, Oracle's customers would buy more and more of his database software and applications.
That's not how things turned out. In fact, within a week of that speech, Oracle closed out its worst quarter in nearly three years--with revenues about $200 million short of Wall Street's expectations. Indeed, Oracle was the first major software house to get caught off guard when tech spending dried up last year.
To be fair, Oracle, which made more than $3 billion in profits last year, wasn't the hardest hit. Highfliers like Ariba Inc. and Commerce One Inc. saw software-license revenues drop by as much as 50% over the course of the year. Even rock-solid Siebel Systems Inc., a customer-management software company whose revenues doubled the previous year, was left staring grimly at zero growth for 2001.
Mercifully, the software industry's annus horribilis isn't likely to be repeated. International Data Corp. says global sales of all packaged software, excluding services, could increase 10.7%, to $202.5 billion, in 2002, about double the growth rate for 2001. Other market researchers are less ebullient, especially given weak demand in software services. But nearly everyone agrees that the picture has brightened.
Consumer software is driving the growth this year. The segment, which includes everything from Microsoft Corp.'s Windows XP operating system to accounting programs for small businesses and games like The Sims, has been a big laggard for the past several years. But now that business spending has slumped so far, retail software spending doesn't look so bad. Within 15 days of XP's launch on Oct. 25, shoppers snapped up about 7 million units, outpacing all other versions of Windows, according to Microsoft. And upgrades of other programs, timed to coincide with the release of XP, are helping. All told, market researcher NPD Techworld says 2001 sales of retail software will easily top $105 billion, up 3% from 2000, and comparable growth is expected this year.
As for corporate-focused software, Dataquest Inc. forecasts 2% growth in 2002, to $81.8 billion. Maybe. If the economy in the fourth quarter of 2001 was as weak as it seemed, companies will hold off big software purchases in early 2002 as well. Sales could pick up later in the year, but "only if the economy comes back--otherwise it's likely to be a flat-to-down year," says Thomas P. Berquist, a managing director at Goldman, Sachs & Co.
After 2001, any improvement will be welcome. For the first time in a decade, sales of software to midsize and large businesses were expected to drop by about 1%, to $78.9 billion, in 2001, according to Dataquest. Leading the way down were the highfliers of 2000: Internet commerce software makers, with sales off more than 30% for the year. "This year was such an anomaly compared to all the others," says Joanne Morin Correia, a Dataquest vice-president.
So when will corporate buyers find their checkbooks again? Charles J. Bay, CEO of Net software maker Kana Software Inc., expects noticeable improvement in the fourth quarter. Oracle's Ellison isn't offering any specific forecasts, but he says sales have stabilized and a recovery is due in 2002. Market researchers are less circumspect. Dataquest says sales of big enterprise software systems to manage tasks like human resources and manufacturing will drop 10%, to $4.88 billion.
Whatever happens to the economy, most industry experts anticipate vigorous spending on at least three types of software. Sales of security programs should rise about 18% in 2002, to $4.34 billion, according to Dataquest. Customer-management software from companies such as Siebel will also grow about 18% in 2002, to $14 billion, according to AMR. A third growth area is the important market for infrastructure software that links big computing systems. Sales in this niche will jump 13.5%, to $5.12 billion, according to Dataquest. In the same infrastructure category, Giga Information Group Inc. is particularly bullish about Web application servers--the building blocks of larger e-business systems. Sales should grow from about $2.3 billion in 2001 to about $3.5 billion this year to $9 billion in 2004.
Then there's Microsoft. The company's stranglehold on the PC software market insulates it from the worst of downturns. "Whether one thing happens super, super, super well or just well or poorly next year, we're in the game, and we're going to stay in the game," says Microsoft CEO Steven A. Ballmer.
The software giant launched a raft of new products in 2001--everything from Windows XP to its Xbox game console. Moreover, it gained ground on such archrivals as Sun Microsystems Inc. in the server business and Oracle in the database software market. Dataquest expects that slice to be worth $8.77 billion in 2002, up 1.6% from 2001. While competitors' sales dipped, Microsoft's revenue increased 10% in the fiscal year that ended June 30, 2001. For fiscal 2002, Microsoft expects revenue to climb about 14%, to $29 billion, and operating income to grow about 4%, to $12 billion.
Microsoft won't launch as many products in 2002. At least one of them, however, an upgrade called Visual Studio.net, should make a splash. Although it's just a set of tools for software developers, Visual Studio is the foundation of much of Microsoft's power. The new version, due out Feb. 13, will include Microsoft's first all-out effort to shift its huge army of developers toward building Web services, which are programs that communicate with other types of software to make life easier for people who want to shop or browse or organize their businesses online.
Web services, in fact, are the playing field on which this year's software battles will be fought. Just about every major software company has a strategy. "Think about what happened with the browser," says Vivek Y. Ranadive, CEO of Tibco. "Now imagine if you could bring that same ease of use to something that really matters," like automating an entire business and allowing different kinds of software to work easily together. That, software experts agree, will be key to an industry turnaround...if there is to be one at all.
By Jim Kerstetter in San Mateo, Calif., with Jay Greene in Seattle
Before it's here, it's on the Bloomberg Terminal.
LEARN MORE