Retail: Discounters Get Their Day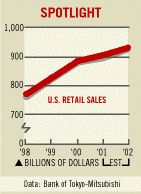 Even before September 11, analysts were expecting the worst results in a decade for the retail sector. After the terrorist attacks, traffic to stores dwindled to a trickle. This ghostliness will continue to haunt 2002. But by next autumn--barring any more mayhem--retail sales should pick up, in the view of many analysts, consultants, and retailers. Nationwide, same-store sales in the U.S. could grow by 3% to 5%, says Jay Scansaroli, managing partner for Andersen's retail advisory services, in contrast to what he thinks was a single-digit decline in the past 12 months. "This year will be a brighter year," he says.
Because retail sales hinge on consumer spending, a real reversal of fortune for retail will require an economic recovery strong enough to raise consumer confidence. Some store owners consider that wishful thinking. "We're planning our business as if the economy won't improve over the next six months," says Eileen Dunn, vice-president of investor relations for Office Depot Inc. (ODP ) The company will open 40 stores in North America in 2002, the same as last year--down from 63 in 2000.
Retail bulls see lots of reasons why sales should eventually perk up. Liquidity pumped into the economy by the Fed's 11 interest-rate reductions last year, tax cuts, and extra income in consumers' pockets from falling gas prices will all make it easier for people to hit the shops. "The third and fourth quarters of 2002 could be surprisingly positive," says Gary Stibel, principal of the New England Consulting Group, a marketing firm.
Sales growth won't solve all the problems, however. To improve the bottom line, retailers will have to keep an eye on inventory and other expenses. Expect retailers to scale back expansions, slash advertising, and run leaner inventories. The latter step, in particular, should eliminate some of the most damaging forms of discounting and in turn boost sagging margins. Lazard Freres & Co. expects operating margins for the nine largest specialty stores--including Abercrombie & Fitch (ANF ), Gap (GPS ), and Talbots (TLB )--to grow to 10.4%, from 9.3% in 2001. That's an improvement, but still below the 1999 peak of 13.4%.
Even as the economy picks up, consumers will try to stretch their dollars. So discounters and value-oriented retailers such as Wal-Mart Stores Inc. (WMT ) and Target Corp.'s Target Stores (TGT ) will continue to take market share away from mall-based department stores and specialty stores, which retail analyst Mark Mandel of SunTrust Robinson Humphrey describes as "the biggest losers." All of the major department-store chains will remain under pressure and will work hard to get rid of excessive inventory. "The discounters will continue to do abnormally well, regardless of whether the economy continues to suffer or turns around," says New England Consulting Group's Stibel.
One of the winners could be Family Dollar Stores Inc. (FDO ), which targets low- and middle-income families. The 4,247-store chain is moving ahead with aggressive plans to open 525 new stores--up from 502 last year. Executive Vice-President George R. Mahoney Jr. expects 10% growth in earnings and 5% growth in same-store sales, driven mostly by the sale of such basic consumables as detergents and paper napkins. "We expect to continue not only growing but growing profitably," says Mahoney.
Specialty retailers, on the other hand, will focus more on improving productivity at existing stores and less on increasing their store base. Specialty apparel stores will grow their square footage by 7.3% in 2002, down from 8.8% last year, estimates Lazard analyst Todd Slater. Overexpanded chains, such as Ann Taylor Stores Corp. (ANN ), will see their growth decelerate significantly. The women's apparel retailer has allocated only $47 million to capital expenditures, down 43% from last year, as it cuts back planned new-store openings at its Ann Taylor stores division from 20 to 7.
Analysts expect specialty outfits that execute well, such as American Eagle Outfitters Inc. (AEOS ), to do better than most. Ditto for women's apparel chains that cater to baby boomers, such as Talbots Inc., which is successfully expanding its brand into large sizes, petites, and accessories. Those retailers that manage to differentiate themselves--on value, not just on price--will emerge the winners.
By Aixa M. Pascual in Atlanta
Before it's here, it's on the Bloomberg Terminal.
LEARN MORE