Professional Services: First, Kill the Consultants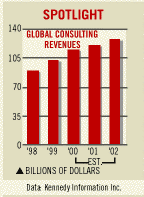 Most industries would have been thrilled with consulting's 2001 revenue growth. But for consultants, it was the worst year in a decade. Many were weaned on double-digit increases in the 1990s, so last year's gains--expected to end up in the mid-single digits--felt puny.
This year won't be much better, but there are some bright spots in the business arena known as professional services--a sprawling industry that includes the Big Five consultants and the consulting arms of IBM (IBM ) and other computer giants. With most clients in full cost-cutting mode, traditional consultants who help companies implement new strategies and technology may be shown the door. But more companies will be turning to outsourcing--essentially handing their back-office activities over to firms such as Accenture Ltd. (ACN ) and IBM Global Services, which manage these functions for their clients. Meanwhile, the September 11 terrorist attacks dramatically increased demand for security services, unleashing a deluge of business for Kroll, Visionics, and others. Both trends will roll ahead in 2002.
It's a good thing, too, because much of the consulting sector will be slowing to a crawl. Dean McMann, CEO of the Ransford Group, a Houston-based company that tracks the consulting industry, says the bloodbath that started in 2001 will continue this year. Few firms will avoid layoffs. And a few hundred boutique firms are likely to go under, as demand for strategy, operational, and technology advice remains weak. Sectorwide, Kennedy Information LLC estimates 2002 revenues, excluding outsourcing, will be $127.3 billion--an increase of 6% and a slight improvement from 2001 revenue growth of 5%.
Why the recent slowdown? With the recession dragging on, companies are scrutinizing all nonessential costs, and consulting services rarely make the cut. Moreover, with technology spending down, the consulting industry has lost one of its biggest growth drivers--helping clients install newfangled computer systems. McMann says demand for information-technology consulting fell by 6% in 2001, with some companies seeing declines of up to 20%. "Consultants are the first ones booted out," says Tom Rodenhauser, president of Consulting Information Services. "They suffer first and most when times are bad."
Fortunately for Accenture and IBM, outsourcing services seem to blossom when conventional consulting work shrivels up. Dataquest Inc. estimates that North American tech outsourcing revenues will grow from $101.6 billion in 2001 to $159.6 billion in 2005, while business process outsourcing revenues will expand from $79.2 billion to $142.7 billion. For the first nine months of 2001, outsourcing revenues are up 15% at IBM, and 50% at Cap Gemini Ernst & Young's North American business. Accenture expects to report that outsourcing revenues have increased 32% in the latest quarter, compared to the year-prior period. And PricewaterhouseCoopers is up 350% in two years. Says PWC partner Tom Eubanks, with amused understatement: "We see this as a healthy market."
The U.S. collective obsession with security, meanwhile, has turned into a bonanza for Visionics Corp., a maker of facial-recognition software, and Kroll Inc. (KROL ), which provides a wide range of services, from background checks to million-dollar security assessments. Kroll is so busy in the wake of the terrorist attacks it's turning away six-figure assignments and expects its first profitable quarter in more than a year. Visionics reported 2001 revenues of $30.5 million, a 19% increase, and expects annual revenue growth of 35% to 50% in 2002. Says Visionics CEO Joseph J. Atick: "We've become an industry with a clear and present value proposition."
Outsourcing and security aren't the only pockets of growth in an otherwise dismal professional services landscape. KPMG Consulting (KCIN ) is seeing double-digit growth in its public services business, which provides consulting services for federal, state, and local governments. And some are predicting a resurgence in IT consulting, citing pent-up demand after the long IT spending drought. But that may be just wishful thinking. For consultants to thrive this year, they'll need to show they can make a contribution to the bottom line. For those that can't, the party's over.
By Louis Lavelle in New York
Before it's here, it's on the Bloomberg Terminal.
LEARN MORE