Health Care: Costs Will Stay Feverish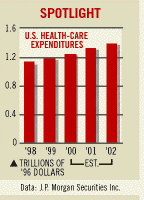 There is one issue that overshadows all others in the health-care industry, whether you are a provider of services or a payer: Costs are going up fast. Expensive new drugs and surgical procedures are proliferating, and an aging population is using more of them. On top of that, hospitals and insurers will have to start complying with elaborate new patient-privacy laws. Together, these factors all but guarantee that health care will be more expensive in 2002.
The impact of rising costs, however, affects payers and providers very differently. Hospitals will continue their struggle to stay afloat in a sea of red ink, just as they did in 2001. Some insurers will struggle, too, but they will be able to raise rates to compensate. One way or another, the rest of us will foot the bill--and it won't be negligible. The amount the U.S. spends on health care is expected to rise to $1.37 trillion in 2002. That's equal to 13.9% of the gross domestic product--up from $1.3 trillion, or 13.4% in 2001, according to J.P. Morgan Securities Inc.
Employers will pick up a bigger share of the increases. An annual survey of large companies by the consulting firm Towers Perrin indicates that health-plan costs will increase an average of 14% in 2002--the largest annual hike since the survey started a decade ago, and the third consecutive year of double-digit increases. Bill McGeever, health industry analyst at UBS Warburg Ltd., says that unless there is a major change in the system, "we are going to be stuck with more and more resources going to health care."
Hospitals have been adapting to a world of dwindling resources ever since Congress passed the Balanced Budget Amendment (BBA) in 1997. That cut Medicare payments to hospitals by $100 billion over five years. By now, say analysts, most institutions have managed to adjust to that huge income reduction, helped along by some $50 billion in BBA relief from Congress over the last four years. As a result, says analyst Bruce Gordon of Moody's Investors Services, the financial outlook for hospital bond issues seems to be stabilizing. "The number of [credit] downgrades exceeded upgrades by 3 to 1 through the first nine months [of 2001], but that's an improvement from 4.5 to 1 in 2000," he says.
Still, sharply rising labor costs will be a burden for hospitals this year. A dearth of nurses and skilled lab technicians is forcing hospitals to shell out more money to hang on to staff. It's either that or lose money by leaving beds empty. And hospitals have plenty of other troubles: An upturn in pharmaceutical drug costs remains a challenge, along with greater scrutiny of health-care costs by governments and corporations, and the need to invest in long-delayed capital improvements. The bottom line, says Lewis Redd, director of Cap Gemini Ernst & Young's hospital practice: "Our clients are very challenged financially."
Not so for health insurers. Anticipated rate hikes should more than cover their rising costs. In 2001, insurers and managed-care companies reaped profits from insurance premiums of 12% to 15%. They should achieve the same high levels in 2002, estimates J.P. Morgan, thanks to a combination of higher rates, higher co-payments, and higher deductibles. It's not just top-tier companies such as CIGNA (CI ), Wellpoint Health Networks (WLP ), and UnitedHealth Group (UNH ) that will be turning in strong results. Oxford Health Plans (OHP ), Health Net (HNT ), Humana (HUM ), and several Blue Cross & Blue Shield plans recovered in 2001 and should prosper in 2002, predict Morgan analysts.
So far, says Warburg's McGeever, there is little evidence that employers are resisting higher rates. That could be because, in the past, they have often been able to pass such costs along to employees. Small employers took this tack in 2001, and a national survey of employer-sponsored health plans by consulting firm William M. Mercer Cos. found that large employers intend to follow suit. Mercer estimates that the average per-employee cost for health care, $5,162 in 2001, will increase by 12.8% in 2002. It seems that year after year, there is a third sure thing for U.S. citizens besides death and taxes: higher health costs.
By Catherine Arnst in New York
Before it's here, it's on the Bloomberg Terminal.
LEARN MORE